Update: Check out our current list on our Food Trucks page.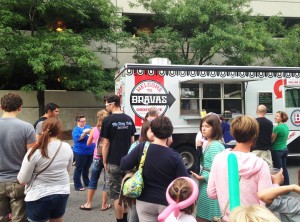 Over the last couple of year's, Fort Wayne has experienced a food revolution of sorts. There has been an abundance of locally owned eateries, farmer's markets, natural and organic groceries and food trucks popping up around the area, creating fresh and new options when looking to grab a bite to eat. While all of our new food options are exciting additions to the Fort Wayne food scene, none have gotten quite the excitement that food trucks have gotten.
[[endteaser]]
Fort Wayne's food trucks offer a little something for everyone, and promise a gourmet experience without paying gourmet prices. You can find everything from a burger and fries, to fresh Italian creations, to dressed up hot dogs and everything in-between! The best part? You can find your favorite food truck out and about nearly everyday!
Check out the list below for all of the food trucks in Fort Wayne - find your favorite and get to eating!
JumBy's Joint
Contact Information: jumbysjoint@yahoo.com, 260.440.1779
Menu: Changes daily, but features burgers, hot dogs, cold cut sandwiches, pork, pizza and more.
Website: www.jumbysjoint.com
Event Request: fill out form on website
*At the moment, this food truck is not in service*
Whip & Chill
Contact Information: anconcessions@aol.com, 260.413.1788
Menu: Atz's Ice Cream, shaved ice, milkshakes, sundaes, floats, malts, hotdogs and brats.
Social Media: Facebook
Event Request: email, call or visit www.foodtrucksin.com/whip-chill
Bravas Food
Contact Information: bo@bravasfood.com, 260.445.3747
Menu: variations of hot dogs, tacos and occasionally burgers. Also features sides.
Website: www.bravasdogs.com
Event Request: email, call or visit www.foodtrucksin.com/bravas-hotdogs-bravas-food
Affine
Contact information: bacon@affinefoods.com
Menu: sandwiches - grilled cheese, veggie, duck, beef, chicken, pork, bacon and sometimes tacos
Website: www.affinefoodtruck.com
Event Request: fill out form on website
Jimmy Ray's
Contact Information: jimparker@jimmyraysbarbq.com, 260.446.7444
Menu: Barbeque - ribs, grilled chicken, pulled pork, potatoes, coleslaw and baked beans
Website: www.jimmyraysbarbq. com
Social Media: Facebook
Event Request: fill out form on website, call or request them through Angie's List
Sol Kitchen, Getaway Grill Food Cart
Contact Information: jpz10864@gmail.com, 260.438.0602
Menu: Changes the featured culture each months, but some features in Cuban food, tacos, beef, chorizos, chicken, fish and shrimp
Website: www.solkitchenfood.com
Event Request: fill out form via website
Wise Guys Ice
Contact Information: tasty@wiseguysice.com, 260.310.3700
Menu: Up to 120 flavors of Italian ice
Website: www.wiseguysice.com
Social Media: Twitter
Event Request: email
Ragin' Cajun
Contact Information: ugmax7@gmail.com, 504.289.5080
Menu: Cajun food including fried or blackened crab, crawfish, shrimp, catfish and jumbalya
Website: www. ragincajunfortwayne.com
Event Request: call or fill out form on the website
Spicer's
Contact Information: spicersfoodtruck@gmail.com, 260.414.0795
Menu: Changes daily with burgers, pork, fries, lemonade and ice tea.
Website: www.spicersfoodtruck.com
Event Request: email or contact form on website
Pizza Bomba
Contact Information: 260.415.8345
Menu: New York style gourmet pizza
Event Request: call
For more information on Fort  Wayne area food trucks, visit the Fort Wayne Food Trucks Facebook page.