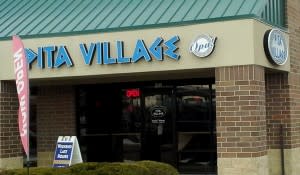 In Greek, the word "opa" is an exclamation of jubilation when experiencing something exciting or inspiring.  It's no wonder, then, that Fort Wayne's newest Greek restaurant, Pita Village, proudly boasts this exclamation!
The first thing that caught my eye as soon as I walked in was the bright blue wall.  Beautiful seaside murals grace this wall, which I appreciate, because I felt I could glimpse a little of the Greek culture in them.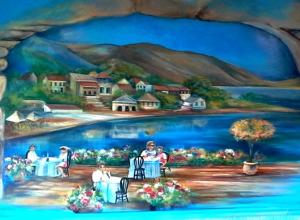 The restaurant floor also has a slight cobblestone feel to help customers feel as if they're experiencing walking through the streets in Greece.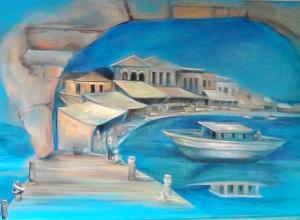 Besides the breathtaking wall, I had an enjoyable time with the staff and trying some new foods.  The staff is so friendly!  The owner took time to tell me a bit about her Greek heritage, and she explained some dishes to me.  She also gave me a Greek dessert, a Calliope (pound cake), to take home. The menu was also helpful in explaining what was in each entree.  (Honestly, almost everything sounded delicious, and I definitely want to return soon to try other dishes!) I ordered the Falafel wrap – Falafel patties and cucumber sauce wrapped in pita bread – which came with fries and a drink.  I have to say that this Falafel was the freshest I'd ever had!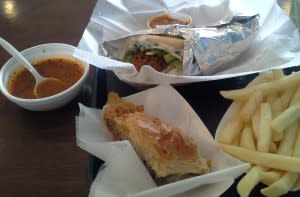 The cucumber sauce was cool and refreshing with the Falafel, too.  Of course, no trip to a Greek restaurant is complete without the traditional Greek dessert-Baklava!
 Customers can buy other traditional Greek food items, such as Gyro sandwiches, Greek Salad (vegetarian or with chicken) and Mousaka (Greek lasagna), all of which sound delicious to me.  Other menu items, like Tyropita (cheese pie in filo dough), Souzoukaki (Greek meatballs in a pita) and Chicken Souvlaki (marinated chicken with vegetables in a pita), sound intriguing and are definitely on my list for my next visit to Pita Village! So, if you've ever wanted to experience Greek culture or just want a fun night out, I highly recommend dining at Pita Village.  It may just make you want to say, "Opa!" Pita Village is at 511 E. Dupont Rd.  You can visit it online On Facebook or on its website here. 260-619-3604 Hours: Sunday, 12:00 p.m. – 5:30 p.m. Monday – Thursday, 11:00 a.m. – 9:00 p.m. Friday – Saturday, 11:00 a.m. – 10:30 p.m.