As Valentine's Day approaches we look for opportunities to share something sweet and decadent with the one we love.  While not always the healthiest option, there's nothing really romantic about sharing carrots and celery so let's indulge in a little sweet treat (in moderation of course).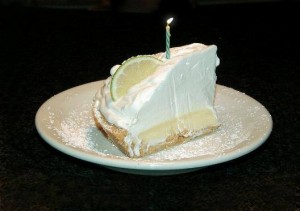 Key Lime Pie at Paula's
Let's start with my favorite all time dessert, Key Lime Pie.  It's the tangy yet sweet combination that just sends my taste buds into paradise on an island in the sun with waves crashing along the shore.  Paula's Seafood on West Main Street just outside of Downtown Fort Wayne has the best Key Lime Pie I've tasted in town.  They do it perfectly.  It's just the right mix of tang and sweet and the perfect creamy consistency.  I highly recommend it.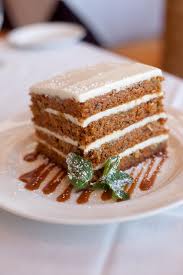 Carrot Cake at Eddie Merlot's
My hubby loves carrot cake but I'm not a big fan.  Well, actually I love the cream cheese frosting but not the cake itself.  That was until I had the Carrot Cake at Eddie Merlot's.  This "slice" of cake is ridiculously large and looks more like a small square cake you'd serve at a party but that means there's plenty to share.  They combine the spicy goodness with perfect cream cheese frosting (and lots of it) and caramel.  Why haven't I thought to add caramel before now?  Its amazing!
Guinness Milk Shake at the Friendly Fox When I think of dessert goodness I don't necessarily think to pair up my husbands favorite beer with my love of ice cream but this simply works.  The Friendly Fox on South Wayne Av in Fort Wayne has managed to marry these two delights into one very happy union of milkshake.  You're probably as skeptical as I am but give it a try.  You wont be sorry.
Cupcakes at Calhoun Street Soups Salads and Spirits Every week Calhoun Street Soups Salads and Spirits (CS3 to the locals) offers a Cupcake of the Week.  You'll find it on their menu board right when you walk in as a reminder to save a little room for dessert.  They're always fresh with just the right amount of sweetness.  The frosting is homemade too and will remind you of something your grandmother made.  The best part, they'll bring you one cupcake and two forks if you're feeling generous enough to share.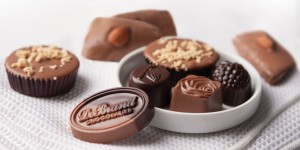 DeBrand Fine Chocolates
You can't talk dessert in Fort Wayne without talking about DeBrand Fine Chocolates.  Known throughout the world as some of the best chocolate confections, DeBrand is also a great place to stop in for dessert.  Whether you're enjoying one of their classic truffles or indulging in an ice cream sundae served up in a DeBrand Chocolate bowl, you're sure to satisfy even the most discerning palate.