Winter is here in Fort Wayne, Indiana! During the holidays and winter seasons, there are so many great activities to enjoy with friends and family. But first: COFFEE. 
Whether you are obsessed with peppermint mochas or prefer a cozy cup of hot cocoa, we've gathered a list of all your local favorites. For some, the holidays can be a stressful time, so getting into the spirit may require a little pick me up (and you know we're definitely here for it).
Warm Up With Festive Holiday Coffee in Fort Wayne!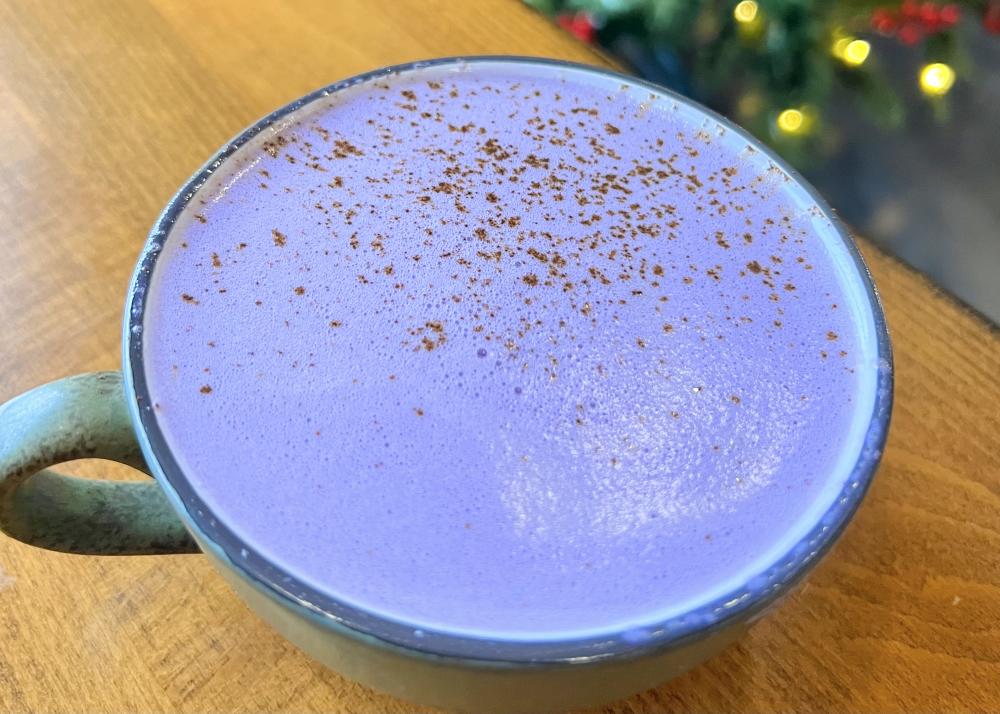 Pictured: Purple Peppermint Mocha at Penny Drip
Mic drop for the only location (that I'm aware of) in Fort Wayne that offers a purple coffee! If you want something more than just your average peppermint mocha, I highly recommend this beverage from Penny Drip. Make sure your phone is charged because you will not want to miss a photo op with this yummy cup of goodness. I'm not sure why, but spending almost 10 dollars on this cup felt so wrong, and yet so right! You can definitely tell that this Purple Peppermint Mocha was born out of a cocktail bar. You can also try the Butterscotch Latte, Gingerbread Latte, or Pumpkin Spice Latte.
815 Lafayette St., Fort Wayne, IN 46802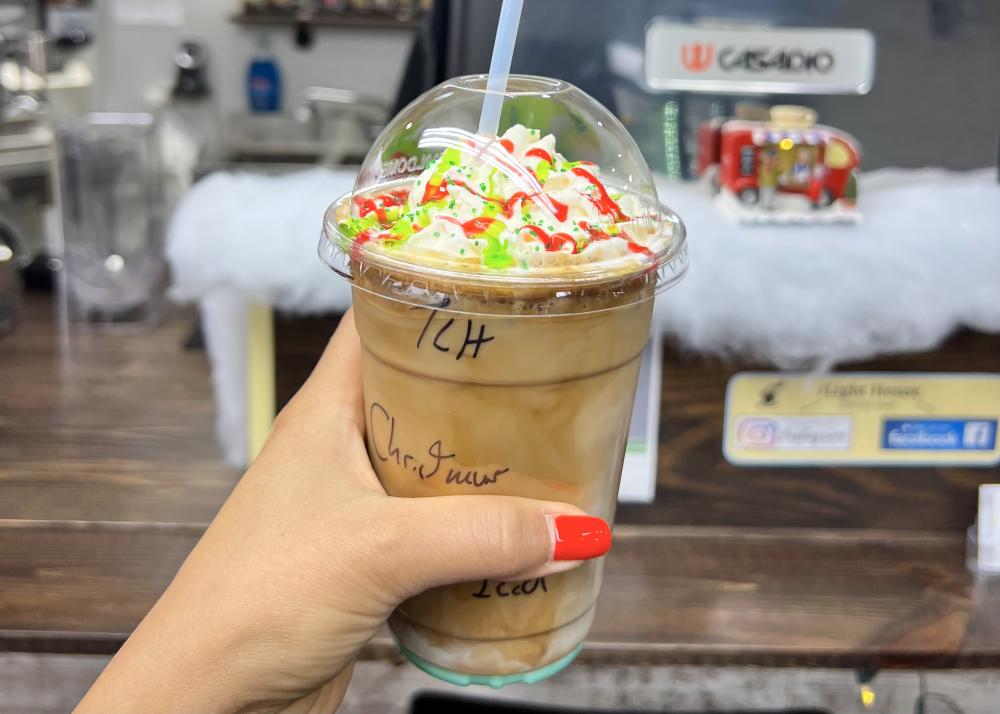 Pictured: Iced Christmas Tree Latte at The Light House Coffee Bar
Hidden away in the northeast Catalyst Fitness location, The Light House Coffee Bar is a quaint little gem giving all the "mom and pop" shop vibes. You are welcomed with a warm smile by owner, Mark. He tells me that all the items on his menu are inspired by some of his experiences. Once you take that first sip, you'll feel it too. 'Tis the season for: Pumpkin Spice Latte, Fireplace, Winter Frost, Eggnog, Gingerbread, and Mistletoe. I ordered an iced Christmas Tree and I really enjoyed the coffee flavors that cut through the chocolatey, minty, balanced goodness. If you want Christmas, this is your drink! A Smitty's latte is also all the rage by the barista's recommendation. Make sure you make it in early as hours of operation do vary.
5928 Trier Rd., Fort Wayne, IN 46815 (inside Catalyst Fitness)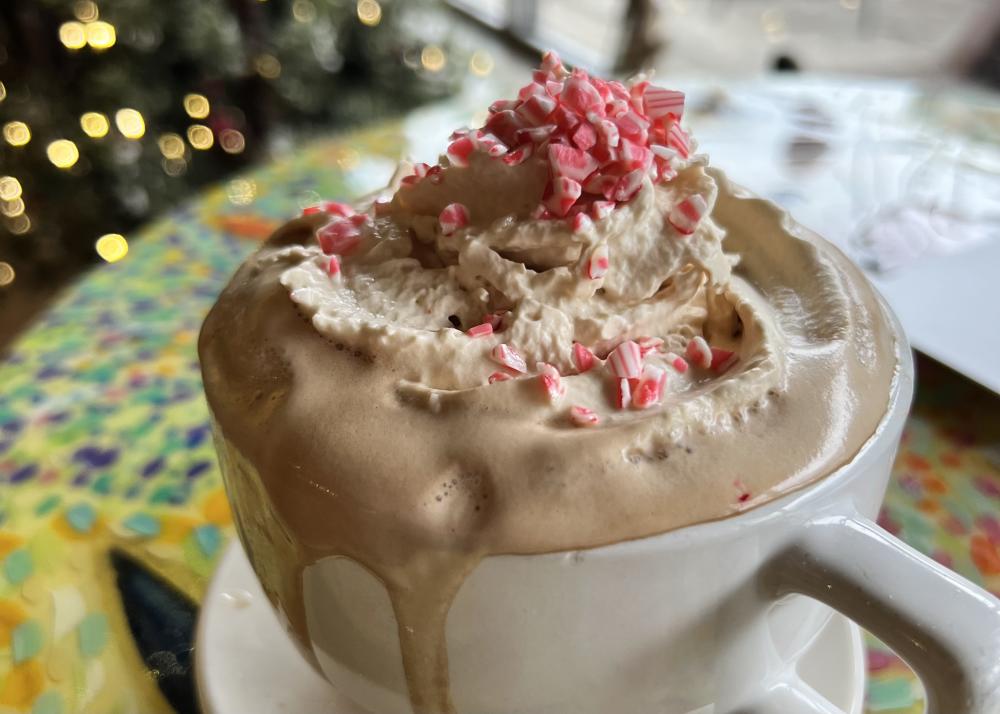 Pictured: Winter Wonderland Mocha at Firefly Coffee House
I've heard legends about Firefly Coffee, and they did not disappoint. Surprisingly, it was my first time here and I enjoyed how homey this coffee house felt. There are lights decorated throughout and the service is superb. On their favorite holiday drink menu, you can get an Egg Nog Latte, Here We Go a Wassailing!, Chocolate Mint Chai, Gingerbread Latte, Hot Buttered Rum Latte, Pumpkin Pie Latte, Pumpkin Chai, Rudolph's Hot Chocolate, and The Grinch. I ordered a Winter Wonderland Mocha and it was delicious. They even have an espresso whipped cream — so good! This is the type of coffee house you'll want to hang out at all year round.
3523 N Anthony Blvd., Fort Wayne, IN 46805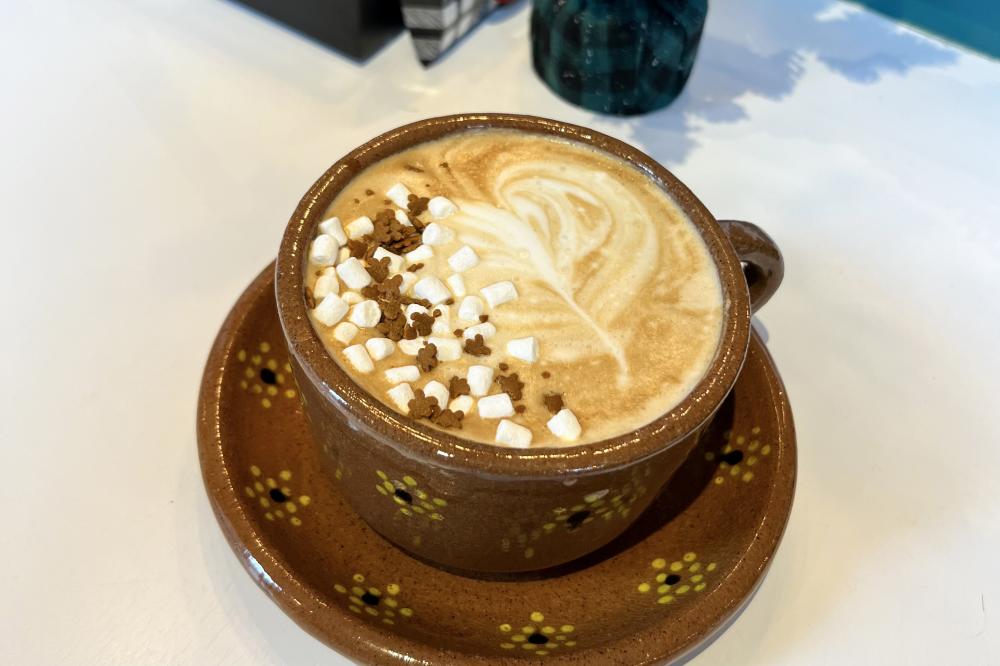 Pictured: Gingerbread Latte at Kanela
You know those little mini gingerbread men sprinkles you've seen all over TikTok and Instagram? Well, you can find them right here on Kanela's Christmas features! Also on the seasonal menu, you can get a Candy Cane Chai, Mint Chocolate Chip, White Christmas, Irish Cream Cold Brew, Gingerbread Latte, or the most popular option, the Biscoff Latte. I'm not sure what is it, but seeing mini gingerbread men and mini marshmallows did, in fact, make my latte taste better.
618 S Harrison St., Fort Wayne, IN 46802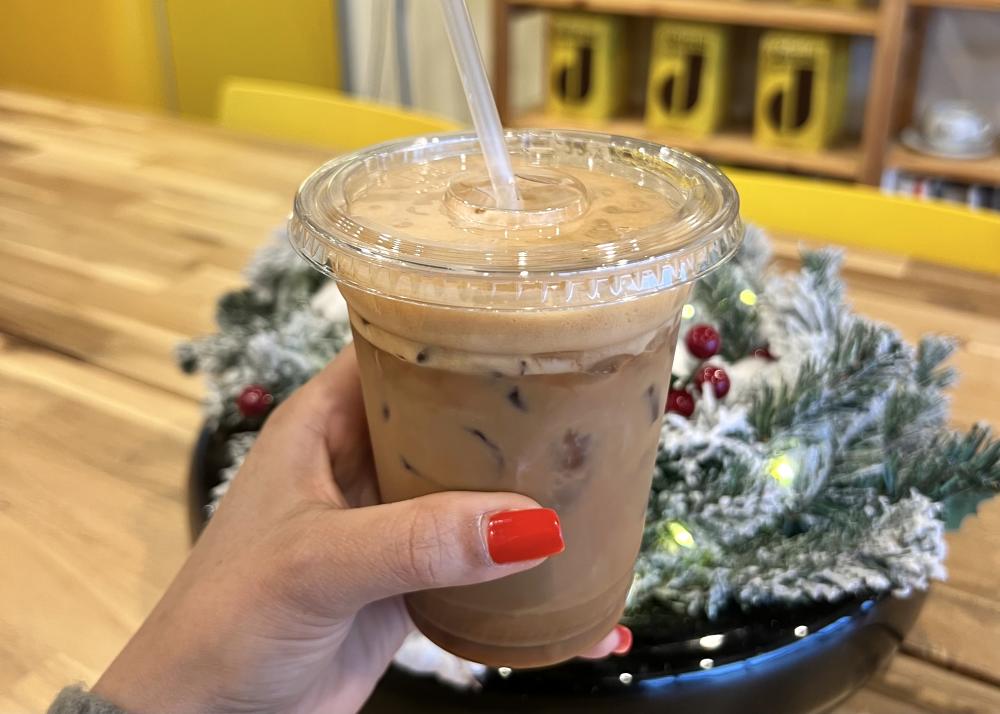 Pictured: Spanish Latte at United Coffee
It's Monday, it snowed the night before, and you didn't sleep well. United Coffee is the only thing getting you through this day — more specifically a Spanish Latte from United Coffee. If you like strong coffee notes, or if you just got back from Europe, this is your new favorite go-to! On their specials menu, you can try a Maple Sea Salt Latte, Turkish Latte, Greek Frappe, or a Vietnamese Coffee.
6447 W Jefferson Blvd., Fort Wayne, IN 46804
​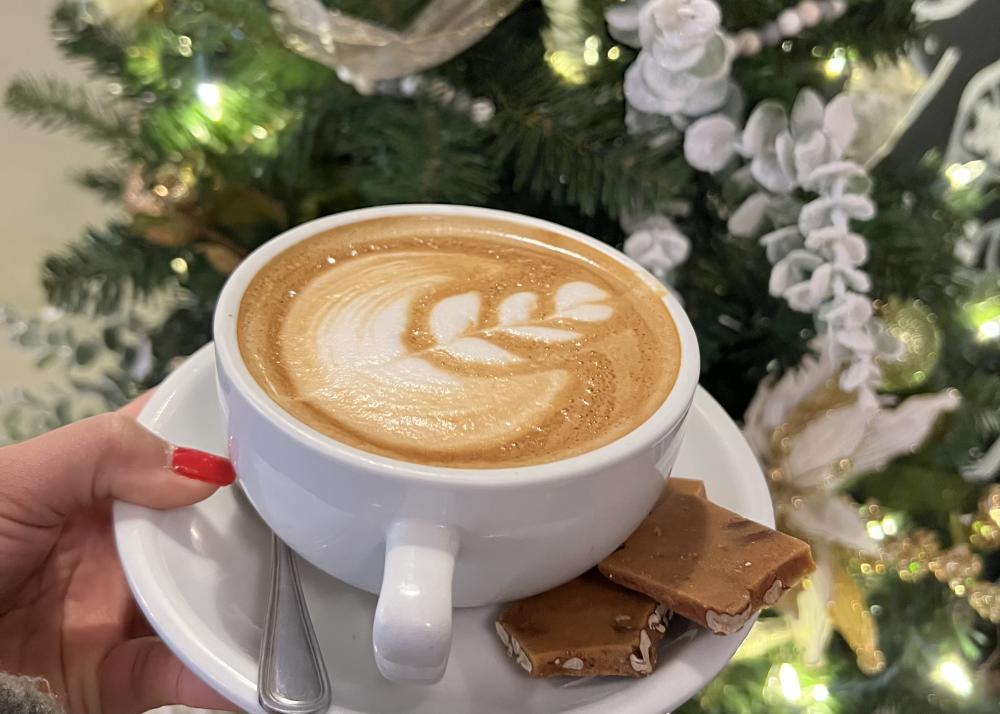 Pictured: Fireplace Latte with Pecan Brittle at Fortezza
On Fortezza's seasonal menu, you can order a Ginger Latte or the classic holiday favorite — a Peppermint Mocha. I opted for the Fireplace Latte and it came with pecan brittle. The sweetness of the brittle was a perfect pairing with the latte because it provided such a nice balance. If sugary coffee isn't your thing, I think you'll love this place.
819 S Calhoun St., Fort Wayne, IN 46802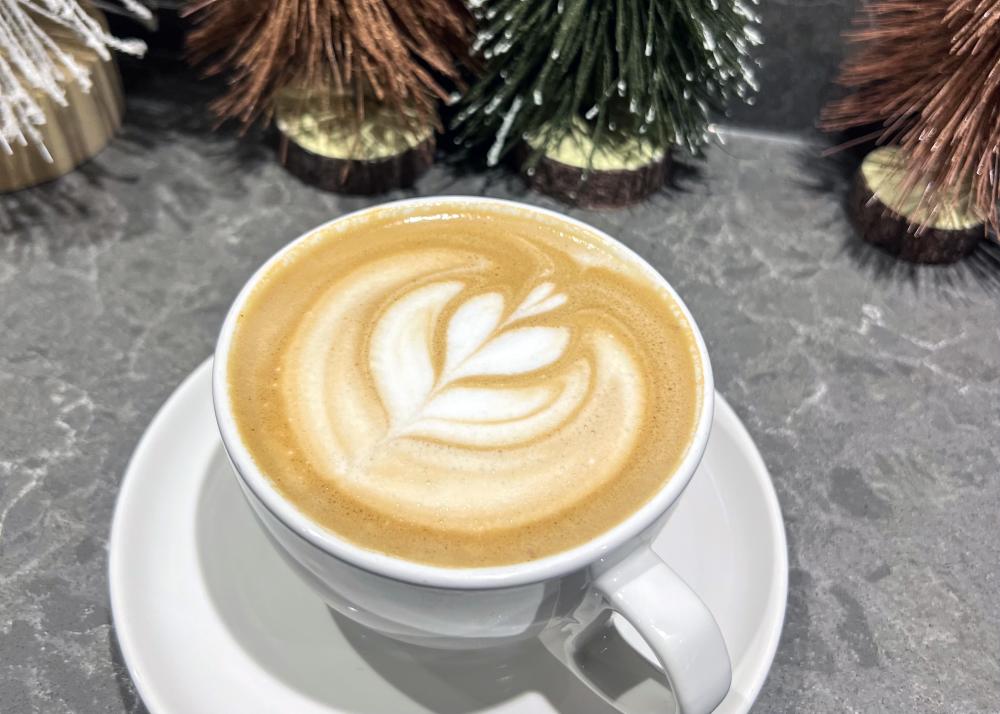 Pictured: Peppermint Mocha at Utopian Coffee + Kitchen
Keeping it classy and classic, Utopian Coffee is offering up a Peppermint Mocha and Gingerbread Molasses Cappuccino for their winter menu. One thing about this place: if you know, you know. All the Fort Wayne locals will be found here. And you will find yourself coming back for more, too.
118 W Columbia St., Fort Wayne, IN 46802
Once you have your cozy winter beverage, find all things festive for the holidays in Fort Wayne!