To the traveling, working musicians of the world – I salute you. Many of us envy your position in society, though I've heard some of you argue that it's not all glitter and glamor when you have to eat slim jims from behind the bar for dinner.
To the vacationing musicians of the world who are looking for a friendly place to play – Welcome to Fort Wayne, Indiana. We have a stage, an audience, and a no-judgement policy waiting for you. Some of our open mic options are even kid-friendly!
Here's the current lineup of open mic nights and locations. I give the firsthand review where applicable. This list is not exhaustive and new options pop up all the time. Readers, please comment if there's an open mic you'd like to see in a future blog.
Sunday
Checkerz Open Blues Jam, 6 – 9 PM, Hosted by Lee Lewis & Friends
I haven't played this one but know several guitar players who enjoy it. I'm told that the host band is welcoming. This is a good option for the intermediate/advanced blues musician. Checkerz is located on the north side of Fort Wayne, close to many of our hotels and just a few minutes from I-69. (Take the 311 exit.)
Location: 1706 W. Till Road, 46818
Monday
The Friendly Fox, 6:30 – 8:30 PM, Hosted by Shelly Dixon & Jeff McRae
This is a wonderful, family-friendly open mic option. I've played a few Dixon & McRae open mic's in the past and will certainly do so again. They're gracious hosts and will work with all instruments and skill levels. Bring the family and get there early for dinner seating. The Friendly Fox is also a full-service restaurant and is a favorite of locals.
Location: 4001 S. Wayne Avenue, 46807
Tuesday
The Latch String Bar & Grill, 9PM – 12 AM, Hosted by Chilly Addams
This is where Taco Tuesday meets open mic night. Musicians can fill up on reasonably-priced food (tacos are just $1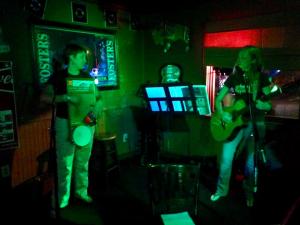 each) before taking the stage at this eclectic jam. I've played this one as well and shared the stage with guitar players, vocalists, a washboard player, and an accordion player. I've also seen mandolins and all sorts of percussion take the stage at the Latch String. This open mic is a favorite among Fort Wayne's professional musicians but that doesn't mean it's an exclusive event. The pros are happy to share their stage with you and would love to hear, and even play with, a newcomer.
Photo by Monica Hadsall
Location: 3221 N. Clinton Street, 46805
Wednesday (a double-header!)
Nick's Martini & Wine Bar, 6-9 PM, hosted by the G-Money Band
This is a true blues night. I've attended but not played it yet. G-Money and his all-star band set the stage with a full drum set and will accompany you with standard blues or improv. This is a great option for blues guitarists who aren't looking to vocalize, or for studied vocalists who want to practice their mic technique. Basically, a new blues band forms every Wednesday evening. This open mic is as fun to watch as it would be to play. 
Location: 1227 E. State Boulevard, 46805
Beamer's Sports Grill, 8 – 11PM, hosted by Chilly Addams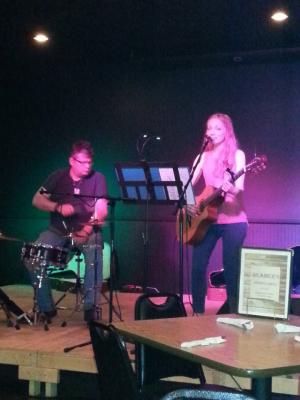 Wednesday night at Beamer's is open to all genres of music. The large, lighted stage is fit to accompany larger acts or impromptu group jams. Of all the open mic's I've played, Wednesday at Beamer's is my favorite. The crowd is delightful and open to receiving creativity. I even played my weird version of the Beatles' "Here Comes the Sun" last week and no one seemed to mind. Beamer's is located on the north end of Allen County, but only about 15 minutes from town and worth the drive. You'll enjoy this one!
Location: 5108 W. County Line Road N., 46725
Photo by Chilly Addams
Thursday
Mad Anthony Brewing Co., 8:30 – 11:00 PM, hosted by Mike Conley
This is an acoustic-style open mic that also welcomes stand-up comedians. The venue is open to all ages, though you may hear some PG-rated language during the comedy acts (all in good fun).  Host Mike Conley is welcoming to newcomers and is an experienced performer and comedian himself. The sound is fantastic at Mad Anthony Brewing Co. and so is the beer – They operate their own micro-brewery! Your server can recommend perfect food and beer pairings to enjoy while you await your turn for stage time. I've played several Thursday evenings at Mad Anthony and try to get back at least once a month.
Location: 2002 Broadway, 46802
Fort Wayne is a musician-friendly town and we would love to share one of our stages with you. Join us for an open mic soon!