This is part two in a seven-part series detailing the opportunities Fort Wayne Trails offer.

New this year, trail maps and itineraries are available online for visitors to the Fort Wayne area. Use one of these guides to plan your next visit. Fort Wayne and Allen County are home to more than 65 miles of trails for biking, hiking and kayaking. In addition, these pathways connect visitors to the area's attractions, downtown, nearby parks and eateries.

• Shoaff Park Trail: This almost 2-mile look goes around the perimeter of this well-known Fort Wayne park. For kids, take some time to cool off at the Shoaff Park splash pad which is located on the west side of the park. In addition, Shoaff Park offers golf, disc golf, a playground for kids and a pavilion which is great for picnics. There are also basketball and tennis courts on site, along with boating access, and open areas ideal for soccer, football or kite flying.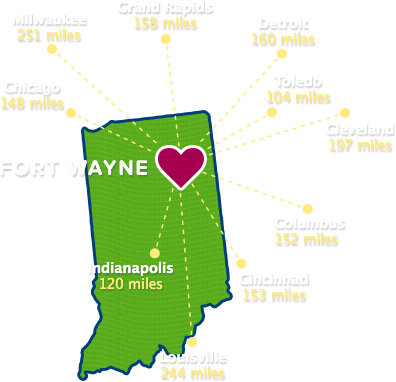 Drinking fountains and restrooms are on site here. Ride south on St. Joe Road to the intersection of St. Joe Center Road for nearby food options. This trail is 2-miles total. Click here to visit the Shoaff Park Fort Wayne Trail map and to use it as a resource for your next journey. A full city map of all trails is also available online. Individual trail maps and itineraries are also available. See you on the trails!