This is part four in a seven-part series detailing the opportunities that the Fort Wayne Trails have to offer.

New this year, trail maps and itineraries are available online for visitors to the Fort Wayne area. Use one of these guides to plan your next visit. Fort Wayne and Allen County are home to more than 65 miles of trails for biking, hiking and kayaking. In addition, these pathways connect visitors to the area's attractions, downtown, nearby parks and eateries.

• Foster Park to Tillman Road Trail: This trail will take you on a beautiful journey through south Fort Wayne and one of the area's top-rated and oldest parks, Foster Park. This course is mostly flat with only a few marks of elevation. The 8-mile trail starts at the north side of the park, with the shorter trail starting at the southern parking lot. In addition to the blooming foliage and adjoining waterway, Foster Park offers drinking fountains, restroom facilities and a large playground for children. For those looking to do more than bike and sight-see, Foster Park also is home to baseball diamonds, tennis courts and a golf course.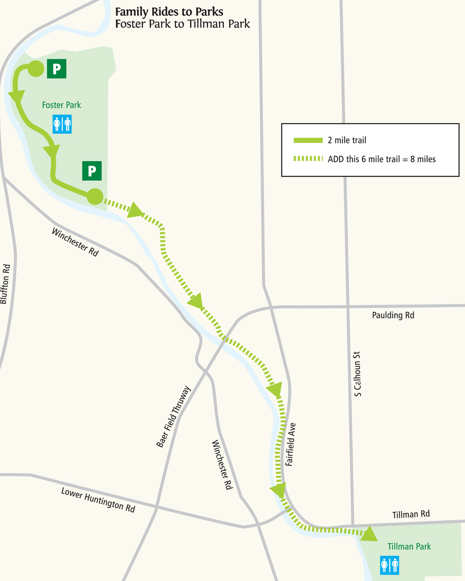 Ride south after leaving Foster Park to arrive at Tillman Park, which also features softball diamonds, tennis courts and a children's playground. This trip can include a real sweet treat - a trip to Fort Wayne's own Atz's, at 211 E. Tillman Road, a local hometown diner. This trail is 6 to 8-miles round trip, depending on the course you take. Click here to visit the Foster Park to Tillman Road Fort Wayne Trail map and to use it as a resource for your next journey. A full city map of all trails is also available online. Individual trail maps and itineraries are also available. See you on the trails!