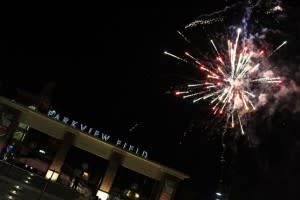 Have you ever seen a giant hamster ball race? Or a Build-a-Burger competition? Maybe a hot-rod race for preschoolers? The
Fort Wayne TinCaps
play good minor-league baseball. And Johnny, the mascot, is one dedicated dude. But between innings, there is a lot to see. According to Michael Limmer, Vice President of Marketing, the between-inning events are different every day. Audience members participate in the on-field activities, like the hamster ball race. Think of a giant, inflatable hamster ball with a person running inside it. The balls hit the field and the first human-powered ball to reach the goal wins. Or, you might see a hot-rod race for kids ages 3-5. Small pedal cars are lined up on the field, the announcer yells "go" and there's a pedaling panic to the finish line. Sections of the audience are asked to cheer during the race – and the best cheering section is often rewarded with coupons for things like Wendy's Frosties or other tasty gifts.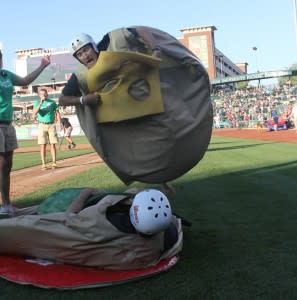 For folks who want to participate in on-field activities, Limmer suggests contestant hopefuls arrive at
Parkview Field
well before the baseball game starts. "The earlier that you're here, the better chance you have of participating." Contestants are only chosen on the day of the game, and the choosing is fairly arbitrary, based on which contests are scheduled. Although the choice of contestants is random, the rules of the game are carefully explained to contestants, and participants are asked to sign a safety awareness form. In August, the TinCaps will be offering even more audience participation on the field. Starting on August 5, fans will be asked to vote on what they'd like to see at the August 23rd "It's All About You" game. Voting will include selecting the color of jerseys the baseball players wear and choosing the way the baseball diamond grass will be mowed. A different choice will be offered each day, so fans are encouraged to vote often on the TinCaps
webpage
or their
facebook
page!