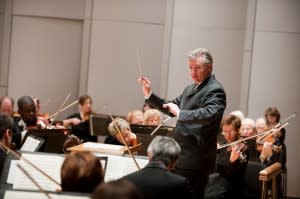 There's just something about sitting in the
Embassy Theatre
, listening to a live orchestra. It's like mixing history with culture and pleasure – the velvet curtains of the Theatre, the coiffed and polished appearance of the guests watching the stage, and the slick programs. It's all a part of "going to the Philharmonic.", the
Fort Wayne Philharmonic
to be exact. Usually, if you get to the theater a little bit early, you'll step through the maroon and gold box office area and into the hall. Then, you hear the orchestra. Sometimes they're tuning, sometimes the conductor is rehearsing the last few bars of a tune, or maybe the soloist is plunking away on the piano. Busy Embassadors (ushers) read your ticket and ask if you know where to sit. You have a glimpse of shiny marble floor, blue and red ceiling, mirrored walls. Then you enter the auditorium. The decor is deep burgundy, peach, and cream; as a finishing touch, two bejeweled chandeliers frame the gentle curve of the stage.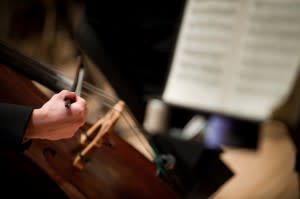 Musicians dot the stage, their chairs fanning out in neat rows from the conductor's podium. Stage assistants check microphones, setting up the soloist's stand, edging the piano to a more comfortable position. You find your seat, turn to the right page in the program, and enjoy the soft plush of velvet cushions. And then, the concert begins. From the black-clad musicians on the stage, the music pours out, flooding into the auditorium. The acoustics are wonderful – you can hear each note of the harp, every sound from the trumpets. Violins play mightily, flowing like rippling wheat in a field. Pages of music are turned quietly, when the orchestra is changing between symphony movements. Then the music begins again, and you can simply sit and enjoy. This season, the Fort Wayne Philharmonic is beginning with a concert of eclectic selections: Rachmaninov's 2
nd
Symphony, Respighi's "Ancient Airs and Dances Suite no. 1" and Mozart's Piano Concerto no. 20, with soloist Alon Goldstein. This concert will take place in the historic Embassy Theatre on Saturday, September 28. Take note - this Masterworks concert will be starting early, at 6 p.m. Most other Masterworks concerts will be starting at 8 p.m. The Embassy Theatre is on 125 W. Jefferson, Fort Wayne, IN 46802. For more information on ticket prices and seating arrangements, you can visit the
Embassy Theatre
or
The Phil's
websites.