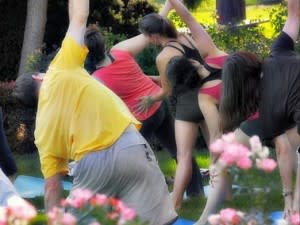 There are few places in Fort Wayne more beautiful than Lakeside Park.  The rose garden is like no other with beautiful fountains and architecture.  It's an oasis in the middle of the city.  It oozes Zen.  So what better place for yoga in the park? Lanah agrees and holds Yoga in the Park classes there on Sundays. The classes, open to the public, are part of Lanah's overarching mission to accelerate sustainable social change from the inside out.  Her company, LanahLink Social Impact Solutions, facilitates and links people to their purpose and businesses to their social impact potential.   The benefits of yoga provide stress management, increased productivity, and leadership sustainability.  LanahLink provides education and consulting for businesses and individual professionals throughout the city as well. Want to see what it's all about? Check out this quick video: 
Fort Wayne Outdoor Yoga
The classes are offered June through September at 6 p.m.  Drop in rate for the classes is $7.  For a schedule of events, follow their facebook
page
. To find out more about Fort Wayne Outdoor Yoga, check out
Visit Fort Wayne
. For more information on the Social Impact Consulting of  LanahLink, you can check out their
website
!