Whether it's a date night with your significant other, or a day out with the family, mini golf provides the perfect budget-friendly outing. From a glow-in-the-dark game, to outdoor courses that test your skill and patience, Fort Wayne offers more than a handful of mini golf options. Play your next round at one of these local favorites.
• The Plex South.
Travel southwest to The Plex South for an indoor mini golf game. This 18-hole course features water hazards, a rough and even angled slides. The Plex South also offers video games and a concession stand. For those age 11 and up, it's $5.50 per round. Children age four to 10 play for $4 per round. Children under age 3 play for free! The Plex South is located at 5702 Engle Road. For detailed information on rates and hours
go online
.
• Putt-Putt Fun Center of Fort Wayne.
This course offers three options -- the Jungle Course, Pro Course or the Volcano Course, each showcasing their own unique obstacles. In addition to mini golf, Putt-Putt has go-karts and an arcade. Keep an eye on the colored lights at the clubhouse during your play for a chance to win prizes! Prices start at $6 for one course, or $10 for to play all three courses. Putt-Putt Fun Center is located on the north side, at 4530 Speedway Drive. For information on specials
go online
.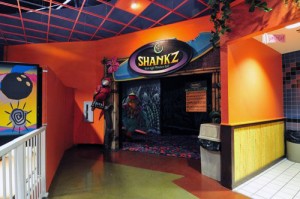 • Shankz Glo Mini Golf.
The Crazy Pinz facility is not only known for bowling. Check out the glow-in-the-dark mini golf course inside which features brightly painted decor! Prices are $4.95 for 9 holes, or $6.95 for 18 holes. Crazy Pinz is located on the north side at 1414 Northland Blvd. For detailed information on Shankz Glo Mini Golf visit
Crazy Pinz online
.
• Back Nine Family Fun Center.
Test your skill at this completely outdoor course. Here you can play 18 holes for only $4. Children under age five can play for $2. Arcade games, a driving range and batting cages are also offered! Back Nine Family Fun Center is located on the north side at 9116 Lima Road. For more information call 260.489.7499.
• GlowGolf.
Conveniently located inside Glenbrook Mall, this glow-in-the-dark course is a great option for larger groups, where more players mean more savings! Adults play for $8 each. Children ages five to 12 play for $6 each, and children age four and under play for $3 each. For information on group deals visit
GlowGolf online
. GlowGolf is located on the mall's lower level, at 4201 Coldwater Road.