When most people think of art museums, they think of places that house unique, modern art, or they think of the huge museums that house the old originals of some of the greatest artists. The Fort Wayne Museum of Art has the feel of both.
To visit the Fort Wayne Museum of Art, you do not need to be an art major, have an art degree, or be an artist to understand and appreciate the art that is there. It has one gallery that houses more of the classic paintings, like garden scenes and women with children, while another gallery has more abstract art and sculptures.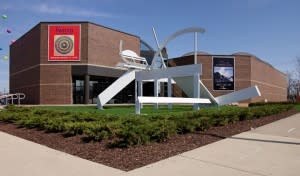 Like most museums, the Fort Wayne Museum of Art has some permanent collections that include pieces like paintings by Robert Duncanson, a bust of Christopher Columbus, and pieces by Philadelphia Silversmith Samuel Williamson.
There are also exhibitions that change quarterly. Currently one of the temporary exhibit is called Infinite Mirror: American Identity that features many different artists. Another is Barns of Indiana by Gwen Gutwein. She painted pictures of many different barns from all over Indiana.
The Fort Wayne Museum of Art is a great place for families to visit, especially if they love art. It is a great place to get away from the noise and hustle and bustle of the city. The Fort Wayne Museum of Art is located at 311 Main Street, Fort Wayne, IN 46802. The hours are: Sunday, 12 – 5 pm; Tuesday – Saturday, 10 am – 6pm; Thursday 10am - 8 pm. The galleries are closed Mondays and major holidays. Admission is free to members and to all on Thursdays and Sundays. Free admission is also offered to all military personnel and their families any day of the week. All other days admission is $5 for adults, $3 for students (k-college), and $10 for families.
For more information, visit them online.