Whether you are a college student or young adult in Fort Wayne, this blog is for you! I have lived in Fort Wayne, Indiana all my life and have enjoyed watching the city expand with new parks, boutiques and restaurants. Every time I return home from college, I love to spend time experiencing the newest additions to the Fort. 
Gather your friends or show off your city to visiting guests with these adventure suggestions within Fort Wayne. Most importantly, these ideas are affordable and accessible.
Young Adult's Guide to Fort Wayne, Indiana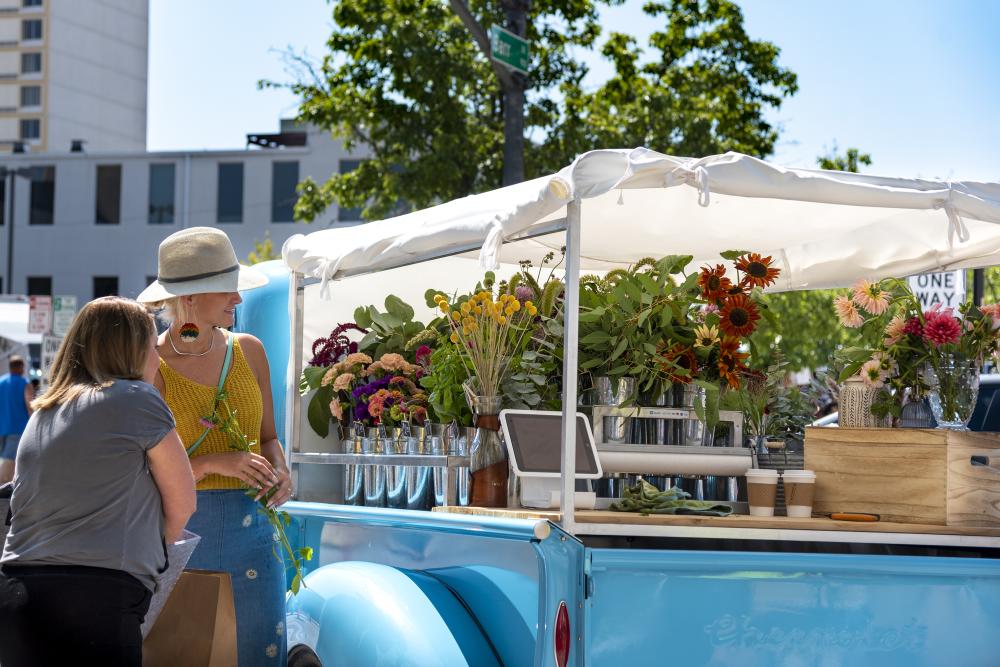 Farmers Markets
Start your weekends at the farmers markets around town. Check out the YLNI Farmers Market and the Fort Wayne Farmers Market on Saturday mornings. See a full listing of farmers markets in the Fort Wayne area here. While the two large downtown markets are on Saturdays, you can find farmers markets throughout the week at different locations around the city. This is a fun way to engage in the community and support local businesses. While there, you can purchase goods from dozens of vendors selling produce, flowers, coffee, and much more.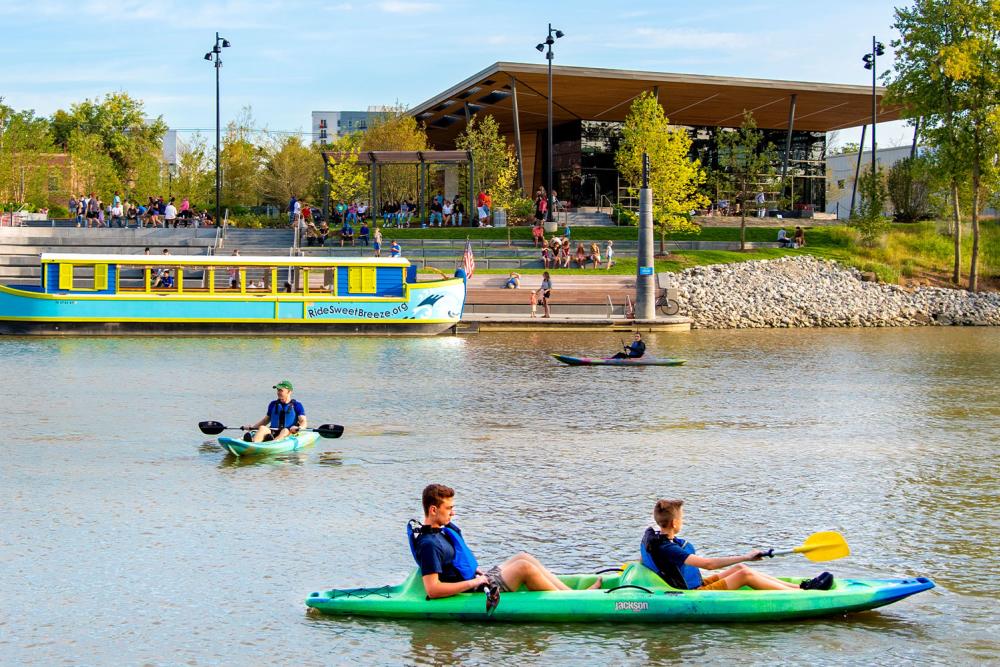 Parks & Recreation
A great way to show the beauty of the city is by visiting the parks. If you are already in the downtown area, head over to Promenade Park, Fort Wayne's newest riverfront attraction. Rent kayaks from Fort Wayne Outfitters and spend the day sightseeing from the river. Enjoy a picnic at other downtown parks, such as Headwaters Park. 
Take a tour outside of the city and enjoy more than 120 miles of trails throughout Allen County. Walk and bike along the rivers on the Rivergreenway or take in the breathtaking views at Eagle Marsh as you venture further away from the city. See a list of mapped out trails that highlight Fort Wayne's top attractions along the way. With so many options there is something for everyone to enjoy!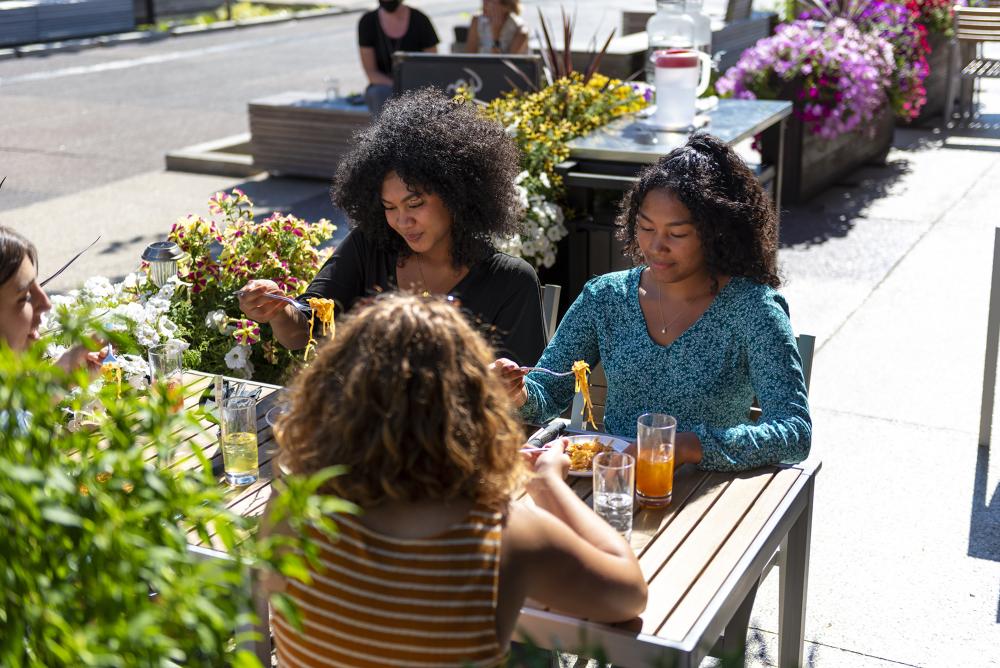 Food & Brews 
Calling all who are 21 and older! Fort Wayne is home to many local breweries that take time to perfect their craft beers. Grab a group of friends and head outside for drinks at the picnic tables at Junk Ditch Brewing Company. A few other local favorites include Three Rivers Distilling Company, Hop River Brewing Company, and Mad Anthony Brewing Company. Follow the Northern Indiana Beer Trail for a list of breweries in and around Fort Wayne. 
Dine in downtown Fort Wayne on The Landing at Asian-inspired Nawa or at The Landing Beer Company. There are many other restaurants with outdoor seating options downtown, such as JK O'Donnell's Irish Pub. Maybe you are looking to dress up for an evening or enjoy a date night on the town. Try Club Soda or Ruth's Chris Steak House! End the night with chocolatey sweets at the famous DeBrand Fine Chocolate, with 4 locations around Fort Wayne. 
Don't forget the coffee! Every good adventure starts with coffee, and you can support local coffee shops all over town. Visit Mocha Lounge in both North and Southwest Fort Wayne. If you are downtown, stop into Fortezza, Conjure Coffee (on Columbia Ave and in Botanical Conservatory), Utopian Coffee on The Landing, and much more.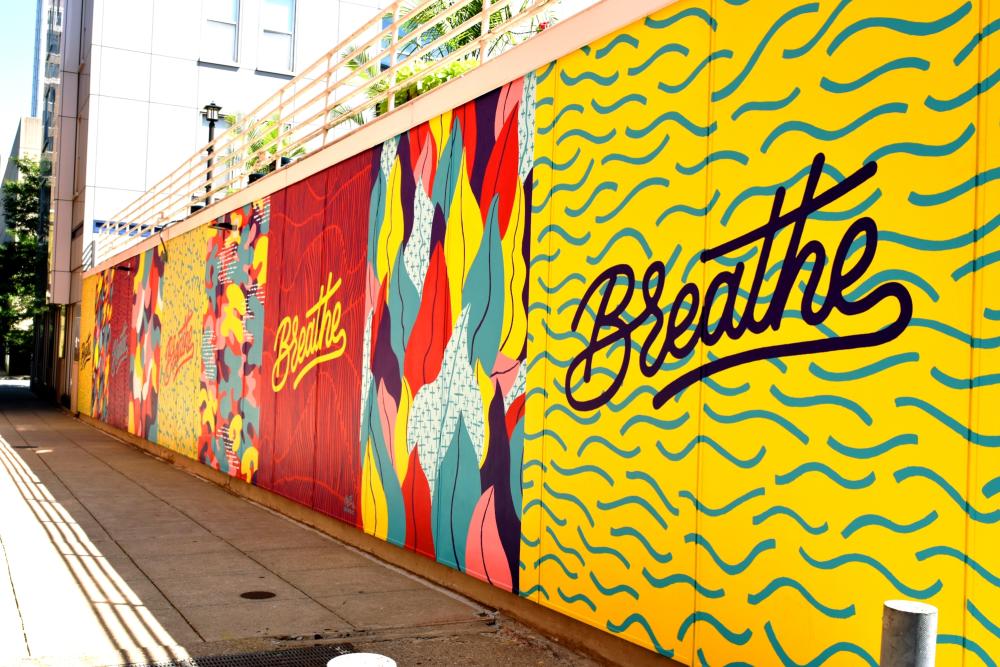 Downtown
Spend the day experiencing downtown Fort Wayne like a local. Whether it's summer or winter, step inside and take in the current exhibit at the Botanical Conservatory. Shop the endless clothes, home goods, and antiques Fort Wayne's downtown boutiques have to offer. 
Take yourself on a self-guided tour of the beautiful murals that line the walls and alleyways in Fort Wayne. They are perfect for photos and memories that will last a lifetime. Another perfect place to capture a photo of the city skyline is along the Tree Canopy Trail at Promenade Park. While at the park, try the brews at Trubble Riverside Cafe & Tap while listening to live music. 
If you are looking for more art, visit the downtown Arts Campus on Main Street. See the current exhibit in the Fort Wayne Museum of Art.
Sports
Fort Wayne loves its sports teams and is home to many professional leagues. In the wintertime, experience the Komets hockey team live in action at the Memorial Coliseum. In the same location, cheer on the Mad Ants as they take on other D-League basketball teams from around the country.  
During a typical summer, a Fort Wayne Tincaps baseball game in the heart of downtown is a can't-miss experience — and tickets start at just $6. Parkview Field is walking distance from top attractions and has accessible parking for your convenience. Plus, if you're over 21, I highly recommend enjoying a game on Thirsty Thursday.
And of course, support the many local college sports teams that call Fort Wayne home!
There's so much fun for young adults in Fort Wayne! Bring your friends and take in all our city has to offer.