Winters in Fort Wayne, Indiana can be lots of fun! You just have to dress according to the weather to enjoy the outdoors even in the colder months.
From fat bike trail rides to snowshoeing and cross-country skiing you don't have to stay bundled up indoors to enjoy a weekend getaway in Fort Wayne. Take it from our winter fun expert Cara Hall at the Fort Wayne Outfitters who knows how to enjoy the great outdoors no matter the season!

Prepare for Outdoor Winter Fun in Fort Wayne, Indiana
The most important thing to learn for winter activities is how to dress properly. You should start with a great base layer that wicks moisture from the skin and holds heat in. Contrary to what you might have worn growing up, cotton is NOT a great base layer. It gets wet with sweat and holds that moisture against your skin.
Instead, choose wool, which is a natural fiber that is hydrophobic so it pulls the moisture away from your skin. It also is very insulating and will keep your body warm. If your skin is sensitive to natural wool fibers, there are great synthetic options to choose from. Your base layer should fit very snug against your skin.
After your base layer, there are many options for mid-insulation layers such as fleece in jackets or vests. You may also want a hard-shell outer layer for waterproofing. There are many options for shells that are waterproof yet still breathable. Also, many shells have zippers under the arms for venting as you heat up with activity.
Find all your outdoor gear needs at Fort Wayne Outfitters or if you forgot to pack something stop by to see if they have what you need!
Your Outdoor Winter Fun Guide to Fort Wayne, Indiana
Cross-country Skiing
Now, let's talk about activities. If we get some snow, you are in luck! Some of the best outings can happen when snow falls. Cross-country skiing is easily accessible to everyone with rentals at Fox Island and Metea Park. Cross-country skiing is easy to learn and a great low-impact, high-intensity workout.
Trail Hikes and Running
Trail running is a great activity all year long. Before you head out it is all about checking temps to figure out how to dress. Sometimes it takes trial and error to find the right solution for you.
Winter hikes are beautiful and very peaceful in the Fort Wayne area as well! There are several great local spots including Eagle Marsh, Fox Island, Metea Park, Lindenwood or any of the ACRES Land Trust locations. If you are quiet on your hike, you are likely to see lots of wildlife.
Mountain Biking
Mountain biking at Franke Park is good throughout the winter. Just be sure to watch for any wet spots that may be frozen over. If the temps are above freezing, remember the trails are closed whenever conditions are muddy, as trails can be damaged with ruts. Fat bikes are a great option for winter and can handle the snow well, too.
If you don't own a fat bike but want to give the sport a try, Fort Wayne Outfitters has a limited rental supply.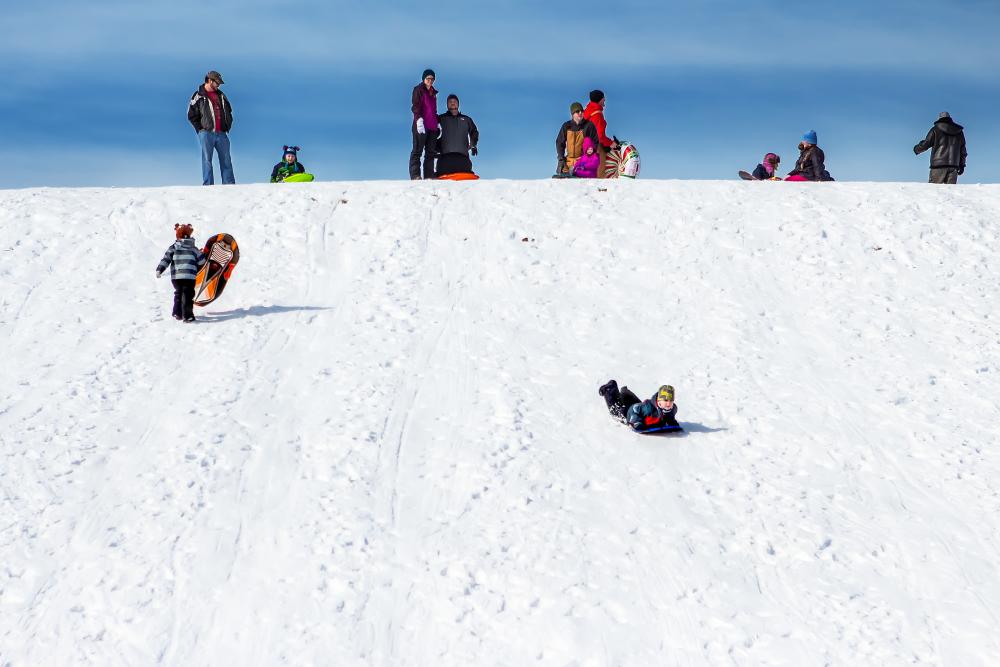 Sledding
Sledding hills offer great fun for everyone in the family at Franke Park. Just bring your own sled and be ready for fun.
Snowshoeing
Snowshoeing is also a great, easy activity for everyone in the family. With snowshoes, you wear your own winter boots so they are easy to size. You can also find snowshoe rentals available at Fort Wayne Outfitters.
Remember: the best way to enjoy winter is to get outside in the crisp, fresh air. Dress appropriately and enjoy it, no matter which activity you choose!
This post was originally published in December 2018. Last Updated: November 2021