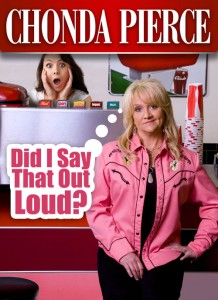 Looking for a night out with the girls? Want to laugh together until you are crying? Then we have just the ticket giveaway for you.
One lucky person can win a pair of tickets to see Chonda Pierce live at the Embassy this November by entering our "Queen of Clean" giveaway!
Chonda was voted the 2009 Comedian of the Year and given the Visionary Award in the Christian Music Hall of Fame. She has authored six books including
Laughing In the Dark
and has ranked among Pollstar's top-selling live performers. Pierce mixes music and comedy into a frothy blend that always leaves audiences laughing hysterically. "I come straight from the world of wooden pews and hell fire preaching. Some of it probably did a little damage – that's where I get my warped sense of humor - but most of those days gave me solid roots," she says. "You learn a lot from your past – what to weed through and throw out and what to hold onto forever." Chonda Pierce just may have been the best kept secret in entertainment for the past decade, a comedian with a firm hold on the heartland of America, but she is quickly gaining acclaim across this country.
Chonda Pierce will be taking the stage at the Fort Wayne Embassy Theatre Saturday, November 12 at 7pm. Tickets are $23 for general admission, $35 for VIP early entry and groups of 10 or more are just $17 each. Grab a bite to eat at one of our great local restaurants or make a girls getaway weekend of it with a hotel package.
And don't forget to enter to win tickets here!