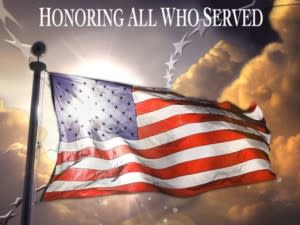 Each November we stop and pause to reflect on all that those serving our country have done on Veteran's Day. To help celebrate these heroes, there are often a number of events in their honor to help commemorate the day we use to celebrate and reflect on the sacrifices current and past members of the military have made.
Tomorrow, Friday, November 8, the Fort Wayne Komets are offering FREE admission as part of the Veteran's Day weekend celebrations. By showing their service ID at the Coliseum ticket office, veterans will be offered a free ticket to any open seat in the house. All active and retired military personnel will be recognized, and the Komets ask that all veterans, and other military members, wear their uniform or armed forces hat to the game.
On Saturday (November 9), the annual Veteran's Day Parade will take place to honor those who have served our country. The parade will start promptly at 11:00am at Parnell Avenue and State Street and will go along a 1 mile stretch of Parnell Avenue.
The Veteran's Day Parade will conclude at the Allen County War Memorial Coliseum with several different, and official, ceremonies to commemorate Veteran's Day. The public is welcome, and encouraged, to line up along the parade route, and join in on the ceremonies afterwards. There are also a number of activities being held for veterans on Veteran's Day.
The Parks and Recreation Department will put on two different events to honor those who have served our country. The first will be a FREE breakfast for veterans. This will take place at the Community Center on Main Street. Breakfast will be served at 8:30. This breakfast is open to all veterans. To make a reservation, Veterans should call 427-6460 to reserve their place. There will be entertainment as well by the American Legion Band and the Honor Flight of Northeast Indiana.
Another free event the Parks Department is hosting is free golf for veterans. Even though the official closing date for all park golf courses is Sunday, November 10, courses will stay open one extra days to celebrate veterans. Shoaff, McMillen and Foster Park Golf Courses will remain open one extra day this year, in order to allow veterans to play golf for free. Those currently active in the military may also play for free on this day! Please show your military ID when you arrive to play. Reservations are reccomended. Reserve your tee time by calling your favorite golf course listed below, or reserve a time on the Fort Wayne Parks website.
McMillen Park Golf Course: 427-6710
Shoaff Park Golf Course: 427-6745
Foster Park Golf Course: 427-6735
IPFW's Office of Military Student Services will conduct the 4th annual Veterans Day Flag Ceremony at 11:30am outside of the Science Mall. Light refreshments will be provided by the IPFW Hospitality Management student catering group. The event is free and open to the public. All veterans are encouraged to attend, along with people currently serving in the military and family members or friends of military service members. Mike's Carwash will be offering FREE car washes to all Veterans and Active Duty in order to say thank you to those who have served. This will be offered at all Mike's Carwash locations. On this day they will also be taking donation in support of the Disable American Veterans (DAV), a national charity that supports disabled veterans, including close to 50,000 in Indiana and Ohio. Area restaurants are also showing their appreciation for veterans.
One of these places is Applebees, where any Veteran or Active Duty Military can eat for FREE on Veterans Day. Texas Roadhouse is inviting Veterans and Active Duty Militaryfor a free lunch in their honor from 11am-2pm on Veterans Day. If you know of any other Veteran's Day events honoring these heroes that we may have missed, please feel free to let us know in the comments!