The holidays are a big deal in Fort Wayne, and we start our festivities early at the annual Night of Lights celebration on Wednesday, November 24 — Thanksgiving eve. The current Night of Lights tradition is nothing new, though. Fort Wayne's love of the holidays goes way back to the Wolf & Dessauer Department Store. Yes, a department store! 
Night of Lights Tradition in Fort Wayne, Indiana
History of Wolf & Dessauer Holiday Traditions
Beginning in 1928, the Wolf & Dessauer Department Store displayed holiday animated windows that were revealed every Thanksgiving. According to Jim and Kathie Barron, authors of Wolf and Dessauer: Where Fort Wayne Shopped, "any given year, you would see Santa feeding his reindeer, ice skating raccoons and elves jumping ropes" (Barron, p. 64). Each and every year—and every season—the window displays would be redecorated revealing the latest advertisement themes to customers.
The window displays drew people far and wide, and "as far away as fifty miles" (Barron, p. 69). But, that was not good enough. In 1937, the Wolf & Dessauer Santa and His Reindeer and Merry Christmas Wreaths were introduced to the holiday window display revealed in November! Made of plywood and more than forty thousand lights, these large additions were displayed at the corner of Calhoun and Washington. They could have rivaled the displays in larger cities like New York and Chicago (pp. 69-71)! That's a BIG deal.
Holiday Tradition in the 21st Century
Get a taste of the bygone era, and enjoy the restored Santa and His Reindeer and the Merry Christmas Wreath at the crowd favorite event, HolidayFest Featuring the Night of Lights!
Although the displays no longer appear side-by-side at the corner of Calhoun and Washington, visitors and residents flock to Main Street to enjoy the lighting of Santa and His Reindeer on the side of the PNC building, and the corner of Calhoun and Wayne to catch the lighting of the Merry Christmas Wreath on the side of the I&M building.
Plus, the Night of Lights has stepped it up a notch with many other holiday display lightings, and has added a new tradition along the way: the Holiday Window Decorating contest! Inspired by the historic Wolf & Dessauer window displays, downtown businesses and storefronts reveal their own window decorations during the Night of Lights, as entries in the contest. The public can walk around downtown to browse the window displays, and vote for their favorites. This year's contest theme is "Scenes From a Snowglobe."
The Holiday Window Decorating contest kicks off on November 24. Visit the website for more information.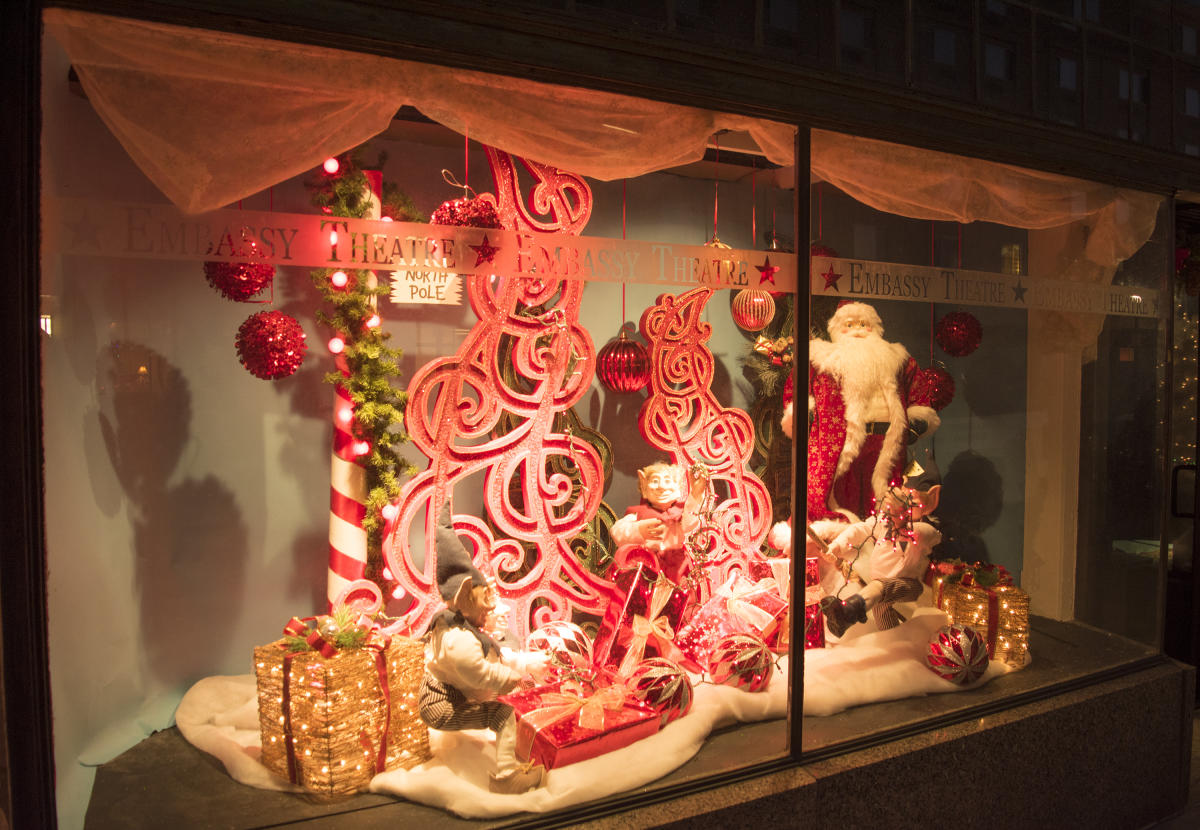 Night of Lights Events
5:45 pm – History Center Turret Lighting (Barr Street)
5:50 pm – NEW! Lighting of Kris Kringle Village & Arts United Plaza (Main Street)
5:55 pm – Christ Child Festival Nativity (West End of Aunt Millie's Building)
6:00 pm – Aunt Millie's Northern Lights (Pearl Street)
6:05 pm – Community Center Santa's Workshop Display (Main Street)
6:20 pm – Santa and His Reindeer at PNC Bank (Main Street & Calhoun Street)
6:40 pm – Ash Brokerage Holiday Illumination (Harrison Street & Berry Street)
7:00 pm – Flagstar Bank Lighting of the Christmas Tree Display & Indiana Michigan Power Merry Christmas Wreath (I&M Power Center Plaza)
7:15 pm – Botanical Conservatory & Embassy Theatre Window Displays (Jefferson Blvd)
7:30 pm – Ringing of the Bells (ACPL and Downtown Churches)
8:00 pm* – Holiday Fireworks at Parkview Field (Jefferson Blvd)
*North gate closes at 7:45 pm

Celebrate the Season with HolidayFest
Don't forget to enjoy many of the other HolidayFest activities and festivals like the Botanical Conservatory's Alpine Holiday Showcase, the History Center's Festival of Gingerbread, or the Embassy Theatre's Festival of Trees!
*Barron, Jim and Kathie, Wolf and Dessauer: Where Fort Wayne Shopped. The History Press, 2011.
*Fort Wayne Historical Society, The Wolf & Dessauer Shopping Experience. The History Center. http://www.fwhistorycenter.com/vex4/index.htm. 2 Nov. 2016.
This post was originally published in November 2016 and has been updated. Last Updated: November 2021