We all know winter weather can be a challenge in Indiana. One day it could be great to walk around and the next day --blizzard!
Never fear about a lack of entertainment options in Fort Wayne should the temps start to waver. Here around some ideas to keep you busy indoors throughout the Christmas season!
Holiday Concerts
The Allen County Public Library downtown branch offers a variety of free musical concerts from a capella to jazz to traditional Christmas hymns. Note: Locations within the library may vary.
IPFW Saxophone Quartet
Wednesday, December 7
12:00 noon • Main Library Great Hall
If you need a mid-week pick me up, slip into the library's main foyer to hear upbeat melodies of the season performed by the IPFW Saxophone Quartet under the direction of Dr. James Farrell Vernon.  This student-led quartet will play renditions of holiday music that will take your mind off of the stress of the busy season. 
IPFW Faculty Jazz Combo
Wednesday, December 14
12:00 noon • Main Library, Jeffrey R. Krull Gallery
The Fort Wayne area is blessed with talented musicians, many of whom are gracious to share their love for performing musically. One example is the IPFW Faculty Jazz Combo featuring Dr. Farrell Vernon, saxophones; guitar; Jim Steele, piano; Brad Kuhns, bass; and Eric Schweikert, drum set, and percussion. You'll forget the length of your to-do list as you enjoy this midday jaunt of jazz at lunchtime.
The Spirit of Christmas Concert
Saturday, December 17 & Sunday, December 18
2:00 pm and 5:00 pm • Allen County Courthouse
Another opportunity to rejoice in the season with music will occur with the talented voices of the choir of Heartland Sings. These soloists and ensembles will serenade everyone in the spirit with their lovely vocals. Maybe they'll sing your favorite tune!
The Philharmonic Holiday Pops
Saturday, December 17
7:30 pm • Embassy Theatre
Broadway personalities join the Fort Wayne Philharmonic, Chorus, and special guests in a program of the traditional and contemporary holiday favorites you know and love. Get into the holiday spirit with this fun concert that's fun for the whole family!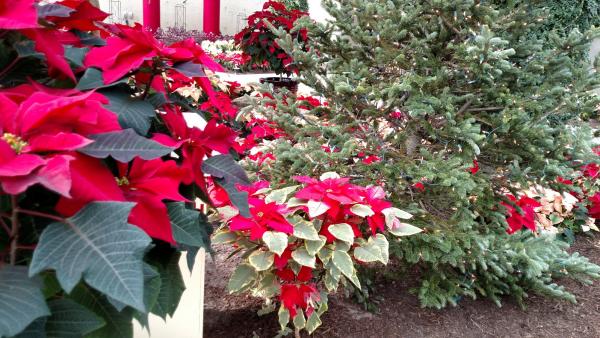 Winter Garden Displays
The Foellinger-Freimann Botanical Conservatory is perhaps one of the warmest locales in downtown Fort Wayne throughout the year, due to all of the plants. At Christmas, it is filled with hundreds of gorgeous poinsettias making it an especially warm and lovely place to be when it's cold outside!
But there's more than poinsettias to bring the Christmas spirit! The Twelve Days of Christmas Holiday Garden Exhibit (November 19-January 8) provides an opportunity to take a whimsical look at a familiar Christmas carol as props are located throughout the Conservatory.
You can sit in a swan boat, milk a cow like a maid in the song and maybe find a golden ring! – all while singing the corresponding part of the song! Go on!
Remember to stroll outside (weather permitting) to be entranced by the decorated garden areas. The outdoor terrace not only twinkles but tunes can be heard of holiday music through speakers.
The gift shop will also be open during public hours for unique holiday gift buying.
Foellinger-Freimann Botanical Conservatory
1100 South Calhoun Street
Fort Wayne, IN 46802
260.427.6440
Hours:
Tuesday - Saturday 10am - 5pm
Thursday 10am - 8pm
Sunday Noon - 4pm
Closed: Mondays, New Year's Day, Christmas Day
Admission: $5 adults, $3 children (ages 3-17), age 2 and under free
Family Movies 
If you and your group need a place to wind down after a busy day of activity, make your way to the Fort Wayne Community Center, part of Fort Wayne Parks & Recreation Department for an affordable, family-friendly movie rated PG.
The admission price can't be beat -- $1.00. That includes seasonal favorites of hot chocolate and cookies.
Adults must be accompanied by at least one child over the age of 3.
Call 427-6460 by 4:30 p.m. the day before the movie is being shown to reserve seats.
Show Times: 5:30 p.m.   

December 7 ............... Frosty the Snowman 
December 15................... Rudolph the Red-Nosed Reindeer   
December 20 ............................ The Grinch 
December 22 ............................ Elf
Note: Show Times for The Grinch and Elf are 2:00 p.m. 
233 W. Main St, Fort Wayne
260.427.6460