My daughter has traveled the world and loves learning about other cultures. When she asked me to attend the 
Fort Wayne Greek Festival
 last year, I agreed to go. It was my first time to attend this event, and we loved it.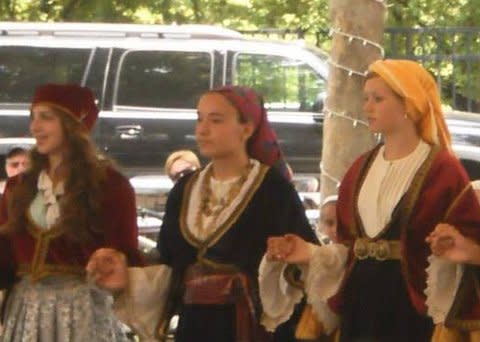 We're both blessed with two left feet so we enjoyed watching the talented and colorful dancers who didn't trip over each other. The mid-day temperatures were warm so I appreciated the way they twirled and glided across the floor of Headwaters Park Pavilion without perspiring. They made it look so effortless!
The crowd that filled the pavilion loved the music as much as we did. Toes tapped and everyone smiled at the elegantly dressed young men and women. Their costumes were lovely. Some girls wore traditional head coverings, gold necklaces and short vests with long, full skirts. Others wore more formal-looking white costumes.
They all held hands and shouted words of encouragement to each other. The audience chimed in so it felt like we were part of a huge family gathering.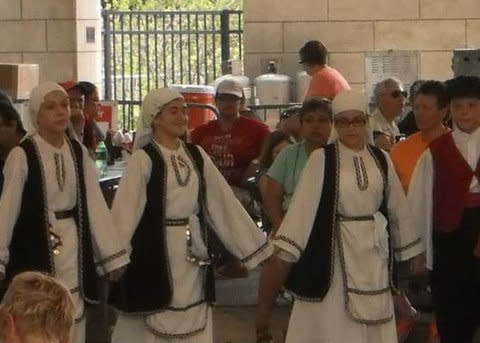 The dance troupes will perform their toe-tapping movements daily from 12:30 pm, 6pm, 8pm.
Of course, no Greek gathering would be complete without a large selection of food. There are main courses, including my favorite -- Mousaka ( spicy ground beef with tomato sauce, eggplant and potato slices topped with cheese. Non-alcoholic beverages are available as well as Greek beer.
Desserts abound, but my favorite is the only one I can pronounce - Baklava. My first taste of this pastry was at this festival. I've purchased it several times since, convinced it was originally food for the gods because of its delicate layers of filo crust, chopped walnuts, and honey taste. All of the food is reasonably priced and delicious.
Now that I've been there, I know I will indulge in more than one type of Greek dessert. Thus, I will have to work off the calories during the Greek Fest Olympic 5k run/walk on Saturday, June 27. The race will be held at 10 a.m. at Headwaters Park, which makes it convenient for attending the festival, which begins daily at 11 a.m.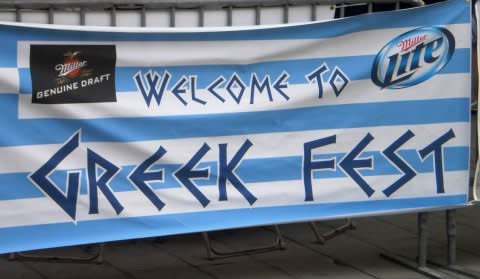 The festival is a family event. Children can eat free hot dogs when accompanied by parents in the food line. There is also a Kids Korner and games. Good deal!
The Fort Wayne Greek Festival is organized by members of Holy Trinity Greek Orthodox Church in Fort Wayne. Kudos to them for establishing a well-liked event in Fort Wayne that introduces us to a culture that is exciting, fun and delicious.
June 25th - 28th, 2015:
Thursday thru Saturday 11am -11pm
Sunday 11am - 5pm