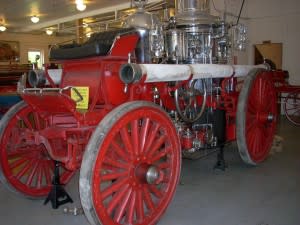 A century ago, it was horse power, not gasoline, that pulled the fire-fighting equipment of Fort Wayne's Engine House #3, currently the home of the Fort Wayne Firefighters Museum. Six men cared for the horses, hitching them to a horse wagon and steamer when necessary to put out fires in the city's business district. The first motorized vehicles were used in the fire house in 1913. The last horse-drawn steamer was used in 1920.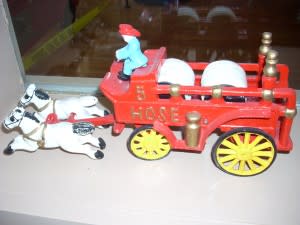 Signs of the horses' influence at the station are still visible. Their names are printed above the former locations of their stalls -- Sam, Pete, Max. Tack items like a halter used by the horses hangs on display in a former stall. In the museum's up-to-date theater on the museum's second floor sits the oats bin used to feed the station's horses. The theater is part of tours offered to groups with 10-minute videos available on fire-related subjects. Groups are welcome to watch the video during tours. A new item at the museum is a group of antique cast iron fire department figures exhibited in the new Robert Kiles Business Meeting Room. The room is named for the former assistant chief of Fort Wayne Fire Department, now deceased. Another new item on display is a child's bed designed to resemble a miniature fire truck. The bed will be raffled as a fundraiser for the museum in Fall 2013. It's plain adorable.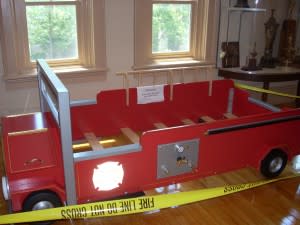 After the horses came various pieces of equipment that fill the museum's first floor. One of the museum's most amazing pieces in my opinion is not a fire engine but an iron lung. Years ago, when polio was an epidemic, firefighters assisted polio patients to and from the hospital with their iron lungs as the fire trucks could accommodate the life-saving machines.
Children are a big part of the 3,000 annual visitors at the museum as they learn about fire safety by touring the museum's mock bedroom and kitchen. If you've not visited the Fort Wayne Firefighters Museum, put it on your must-do list. With full-size exhibits of antique fire engines and other items to remind us of the duties of fire stations of the past, it has something for everyone. The museum is located at: 226 W Washington Blvd Fort Wayne 260.426.0051 You can also visit their website for more information.