You may have visited the Embassy Theatre before, but if you haven't visited during the Festival of Trees, you owe it to yourself to visit again. The beautiful, historical space was made for this festival, filled with lights, colors, and the joy of the Christmas season.
[[endteaser]]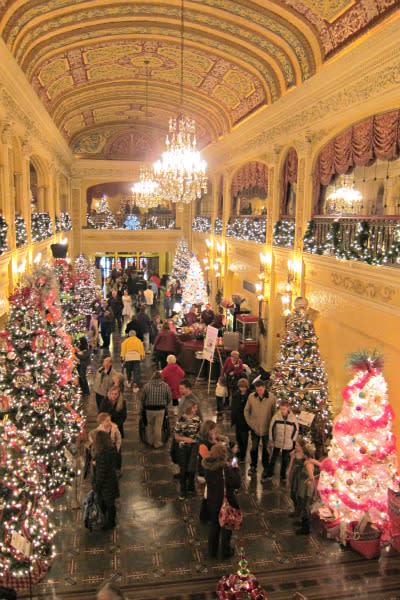 Themed Trees
Each tree at the festival is decorated by a company or other sponsoring group, based on their own ideas. You're guaranteed to find a tree to your liking. There are traditional trees, more modern looks, and several that are just plain quirky. Last year, I loved a tree decorated with characters from the books of children's author Eric Carle. Young and young-at-heart will find trees to please. 
Don't confine your browsing to just the lobby -- there are also trees upstairs, and in the adjacent rooms as well. You can even vote for your favorite tree!
Entertainment
This being the Embassy Theatre, it will probably come as no surprise that the stage offers live entertainment throughout the festival. Last year, I was able to take in a ballet performance by one of my piano students. In the past, I've also heard singing groups and a Suzuki string ensemble. The music is the perfect complement to the visual beauty you encounter with the trees. And after seeing the trees and hearing the music, it's hard to leave this festival *not* feeling the Christmas spirit!
As you leave, be sure to also enjoy the themed Embassy Theatre windows, which are filled with seasonal animated displays that are sure to delight the eyes.

New for 2015
The Festival of Trees theme for 2015, its 31st year, is "Warm Winter Wishes."  Since photo-taking is a popular activity at the festival, this year they are offering a Family Photo Night on November 30. On this night, only 100 families will be admitted (cost is $50 per family), so the crowd will be manageable. Another hint if you're hoping to avoid crowds is to visit during the day or on a weekday evening if possible, because attendance is lower then as well.
If you love Christmas music (and who doesn't?), you'll want to take advantage of this year's Fort Wayne Children's Choir Night. On December 2, the choir's seven ensembles will be performing on stage from 5-9 p.m.
Have you visited the Festival of Trees before? If so, leave a comment letting us know your favorite thing about it.

125 West Jefferson St.
Fort Wayne, Indiana 46802

Nov. 25, 6-9 PM
Nov. 26, 4-8 PM
Nov. 27 -29, Noon - 8 PM
Nov. 30, 9 AM - 1 PM & 5-9 PM
Dec. 1-2, 9 AM - 1 PM