Run, run, as fast as you can. You can't catch me ... I'm on my way to the Festival of Gingerbread!
The Festival of Gingerbread has gone on for years, and I'll admit that it took me several years before I began attending. After all, I'd already visited the History Center, where it is held. Was the sweet festival worth another visit?
[[endteaser]]
Something (Sweet) for Everyone
I'll answer with a resounding "yes!" The festival offers something for everyone. History buffs will love the historical buildings -- yes, there is a whole category featuring gingerbread replicas of buildings in Fort Wayne (the photo above features a copy of Aboite Township's Center School). The details on these buildings is truly amazing, especially to me, as someone who has struggled to assemble a simple gingerbread house from a kit with my kids.
Children will love everything, from the detailed creations to those that are less exacting but just plain fun (gingerbread versions of the Super Bowl and a marching band come to mind).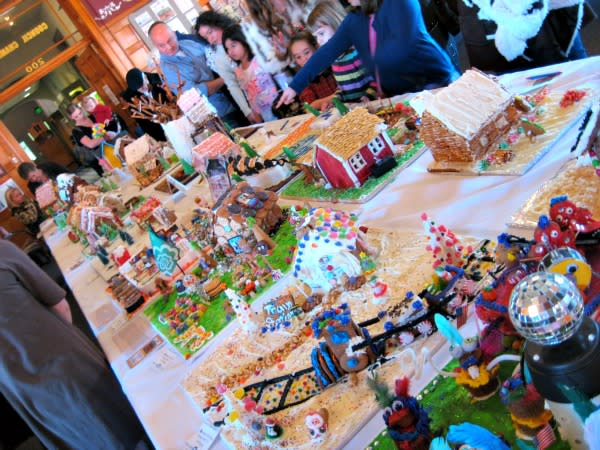 Who Makes the Gingerbread Creations?
Gingerbread creations can be entered by pretty much anyone, from kids in pre-k to adults. There's even a category for family groups to enter. Hobby crafters are welcome, although professionals can enter creations, too. There are prizes awarded in all categories, but honestly I enjoyed many of the non-winning displays as much as those garnering awards.
During weekdays, crowds are generally lower, so you can linger in front of that Victorian Gingerbread House, savoring the details. On weekends, be prepared to share your enthusiasm with more visitors. The festival is held on just one floor of the History Center, and your admission cost includes the entire center. You'll want to be sure to allow time to visit all the center's exhibits, including the spooky jail cells.  
Have you visited the Gingerbread Festival? Leave a comment letting us know about your favorite gingerbread display!

Festival of Gingerbread at the Fort Wayne History Center
Nov. 27 - Dec. 13
Mon. - Thurs. 9-5
Fri. - Sat. 9-8
Sunday 12-5
302 East Berry Street
Fort Wayne, IN 46802
Admission, $6/adults, $4/children and seniors