Update: As of 2017, Tanglewood Berry Farm is no longer in operation.
This post is part of our Hot Summer. Cool City. series, where you can discover great family getaways and even WIN a getaway for your family in our Fort Wayne Photo Contest. Learn more here.

Fort Wayne has an abundance of Farmer's Markets growing all over the city. These markets offer produce, food to order, and unique items you won't find anywhere else. A few of my favorites are highlighted here, with a full list of market locations by day below: The Fort Wayne Farmer's Market runs several locations almost every day of the week.  All locations have a mix of farm and garden selections as well as home-based food and products.  This organization also sponsors Art and Craft Markets on varying weeks at all locations, so be sure to check their website for a full listing.  After the weather cools down, Fort Wayne Farmer's Market will continue its Indoor Winter Market from 9 a.m. to 1 p.m. at the Lincoln Financial Event Center, beginning October 5.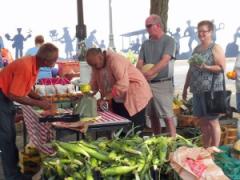 Tanglewood Berry Farm is a USDA Certified Organic grower, and all its produce is grown without Generically Modified Organisms, or GMOs.  This family-owned farm has lots of fresh berries, fruits, and vegetables for purchase three days a week, as well as animals and other events.  Take advantage of the farm's Saturday farm tours, U-pick opportunities, yoga classes, and Little Sprouts Children's educational programming. Insider Tip: Tanglewood Berry Farm's Farm Chef and Market Master Margy Hooker's own cookbook is available in the Visitors Center.
Cedar Creek Produce is a family-run business in Leo-Cedarville with its own store and items available all year long.  You can pick your own berries at their location on 11709 Clay Street; they'll also have a mobile produce wagon at the East State Village, Towne House Retirement Community, and Georgetown Square Farmer's Markets.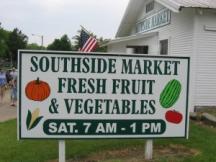 The South Side Farmer's Market is open Saturdays from 7 a.m. – 1 p.m. and has a wide selection of grown foods, antiques, live music, flea market finds, and other goods.  Opened in 1926, this historic venue has seen a resurgence in activity as more people grow food at home and as demand increases for ethically and locally sourced food.  You can view of a full list of what is available at what times here. Here is a full listing of market times and locations: Tuesdays:
Fort Wayne Farmer's Market at Parkview Regional Medical Center Campus (PRMC) on the North side of Parkview Plaza Drive, 2 – 6 p.m.
Towne House Retirement Community Farmer's Market, 2209 St. Joe Center Road, 3 – 6 p.m.
Wednesdays:
Thursdays:
Fridays:
Saturdays:
Sundays: