Whether you work from home or at the office, you can always find ways to spruce up your workspace! We've compiled a few must-haves from Fort Wayne artists, boutiques, and businesses to help bring your work environment to life. Plus, it's a great way for anyone—near and far—who loves Fort Wayne to shop, support, and celebrate local. 
Fort Wayne Items to Brighten Your Workspace
Stationery and Supplies
Paper. Pencils. Planners. You know, the essentials.

Kyle Sommer, local artist and owner of Sommer Letter Co., hand-paints each of her designs. Add these floral notebooks and notepads to your workspace for the perfect pop of color! View options and buy here.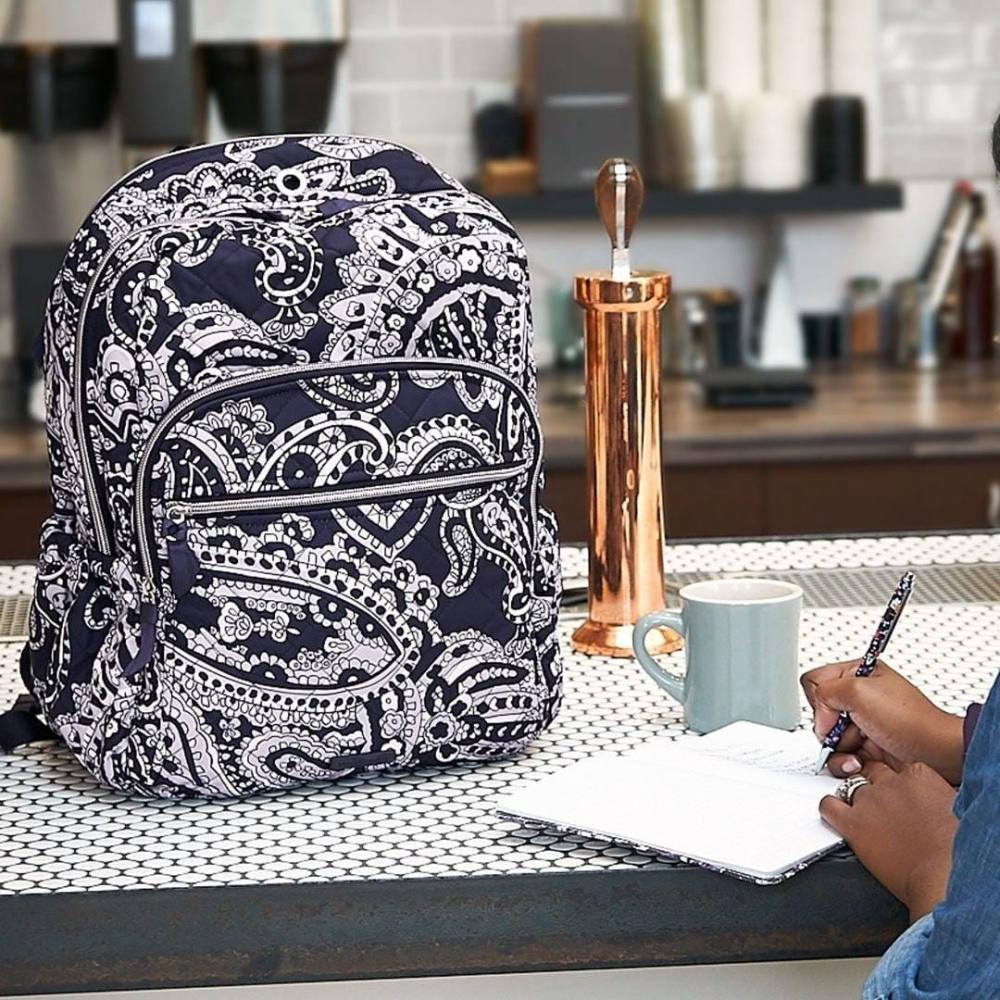 @verabradley on Instagram
Did you know Vera Bradley was founded in Fort Wayne? The company maintains its headquarters at the Vera Bradley Design Center here in Fort Wayne, where the team designs the travel and lifestyle products we know and love. Keep your desk stocked with their whimsical line of pens, pencils, planners, notebooks, and more! Browse the collection.
Office Decor
Let your personal style shine as you spruce up your workspace. Surround yourself with local artwork, vibrant plants, and Fort Wayne favorites that fit your taste!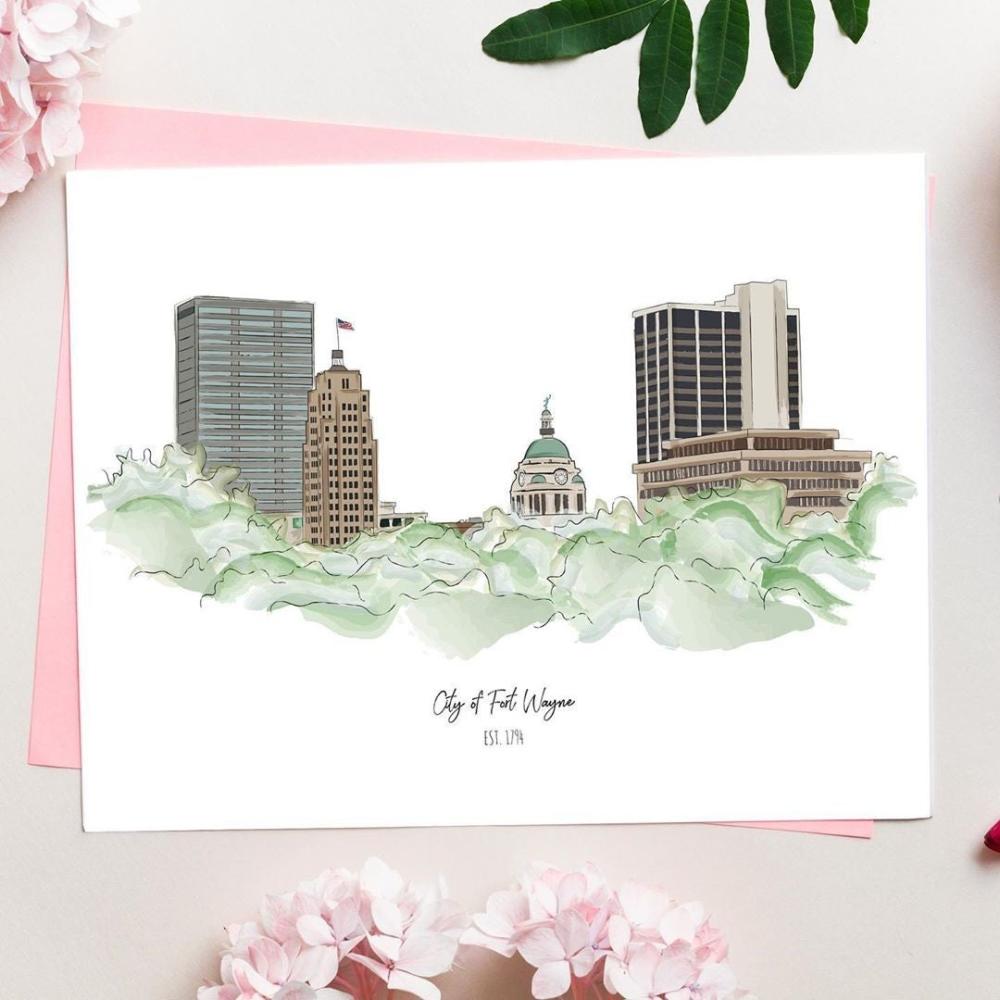 @VimAnnVigorDesign on Instagram
Enjoy a view of the Fort Wayne skyline from your desk! Local illustrator and graphic designer—Nicolle Ginter, aka VimAnnVigor—has created a series of 8x10 Fort Wayne prints perfect for your work environment. Shop her Etsy store or find her prints at House to Home in downtown Fort Wayne.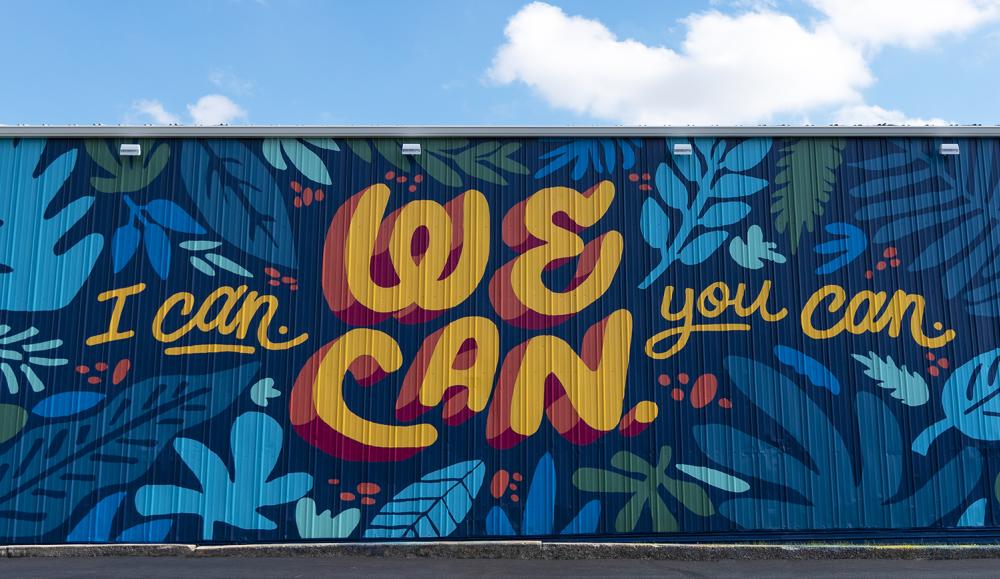 As artist Matt Plett says, "We got this y'all." After painting this mural in downtown Fort Wayne, he created an 8x10 print with the same encouraging reminder. We're all in this together. Buy the print.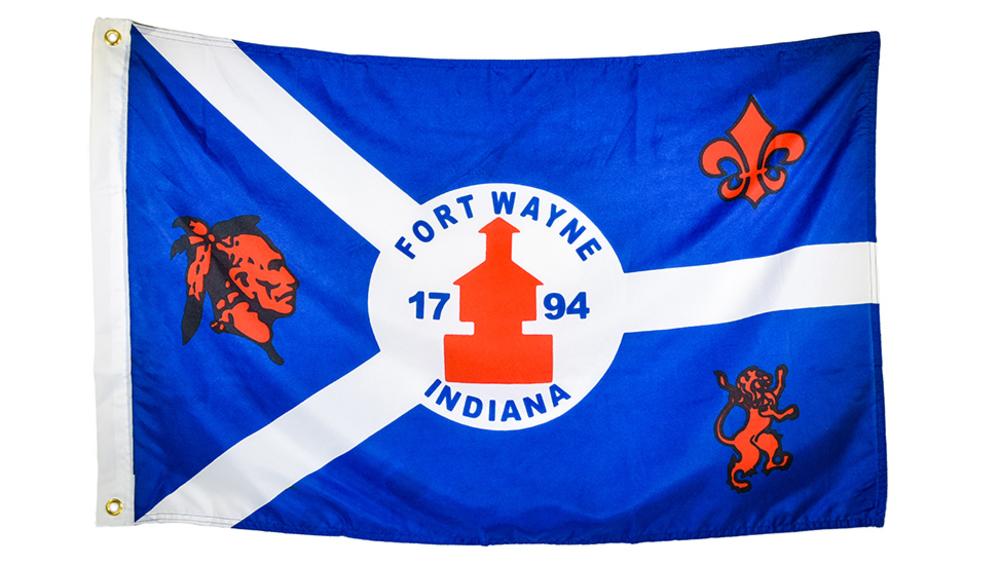 Show your Fort Wayne pride with a City of Fort Wayne flag! Headwaters Lifestyle Co. sells flags, apparel, and other accessories all celebrating our city. While you're checking out the flags, snag one of 14 different Fort Wayne themed-stickers to display in your office. View the flag and stickers.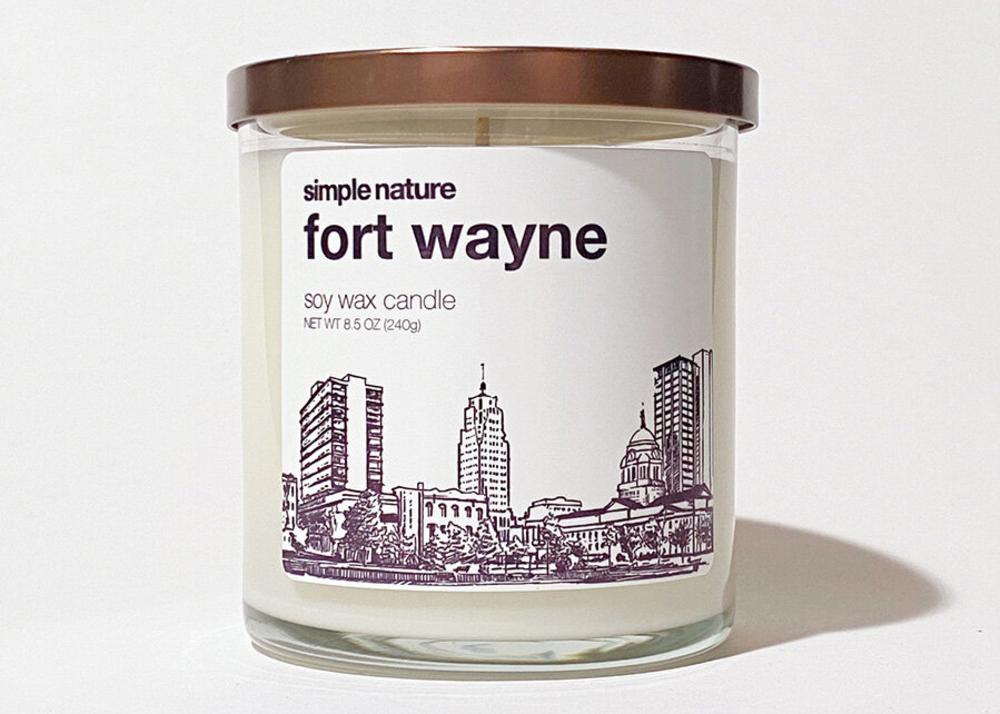 Founded in Fort Wayne in 2018, Simple Nature creates small-batch candles using soy wax and essential oils. Their shop is known for offering unique candle scents for 30 different cities and states—from Malibu to Paris. Our favorite? The Fort Wayne Candle. A blend of apple, maple, and bourbon scents, this candle delightfully captures the feel of our city. It's a must-have for any cozy office! Buy here or browse more candles.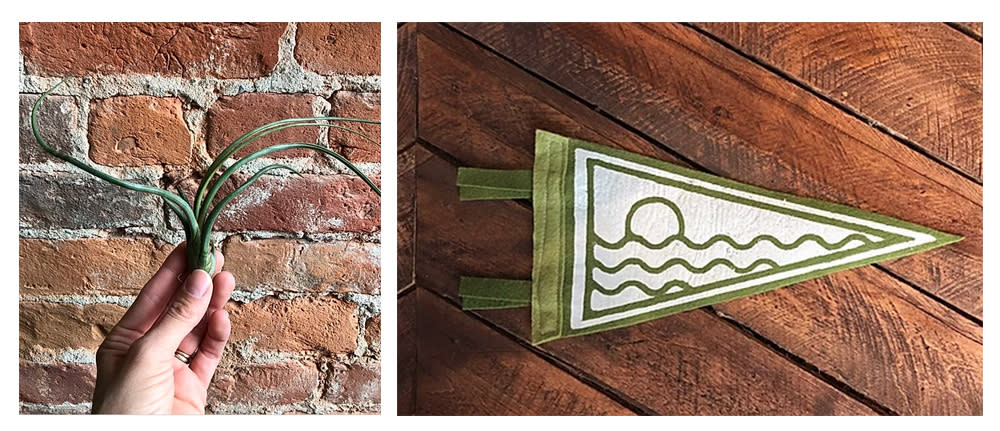 Add some new life (literally) into your workspace with air plants! They're pretty low maintenance and bring a natural element to the room. Find a variety of air plants and plant accessories at Fancy & Staple. This downtown Fort Wayne boutique also has a wide selection of fun—and often cheeky—wall prints and decor. Check out this cool Three Rivers pennant, this "Have a Nice Day" mural print, or browse the local goods category of the online store.
Coffee and Snacks
Stay caffeinated throughout your day and have snacks on hand for when you're feeling munchie. Here are some of our local favorites.

Local Brews
When it comes to your morning boost of energy, the perfect coffee is essential. Check out a few spots below to grab a bag of locally-roasted coffee—then brew, sip, and enjoy. (Shipping available!) 
Utopian Coffee — Beloved small-batch roastery in downtown Fort Wayne for more than 10 years. Order online today or plan a future visit to their first coffee shop opening soon at The Landing!
Old Crown Coffee Roasters — Roasted in house, Old Crown's blends are a favorite among locals. If you prefer a dark roast, you have to try the 9th Degree of Darkness.
Conjure Coffee — Roastery with 2 downtown cafes and a true heart for all things local. These folks take coffee seriously. The proof is in the taste!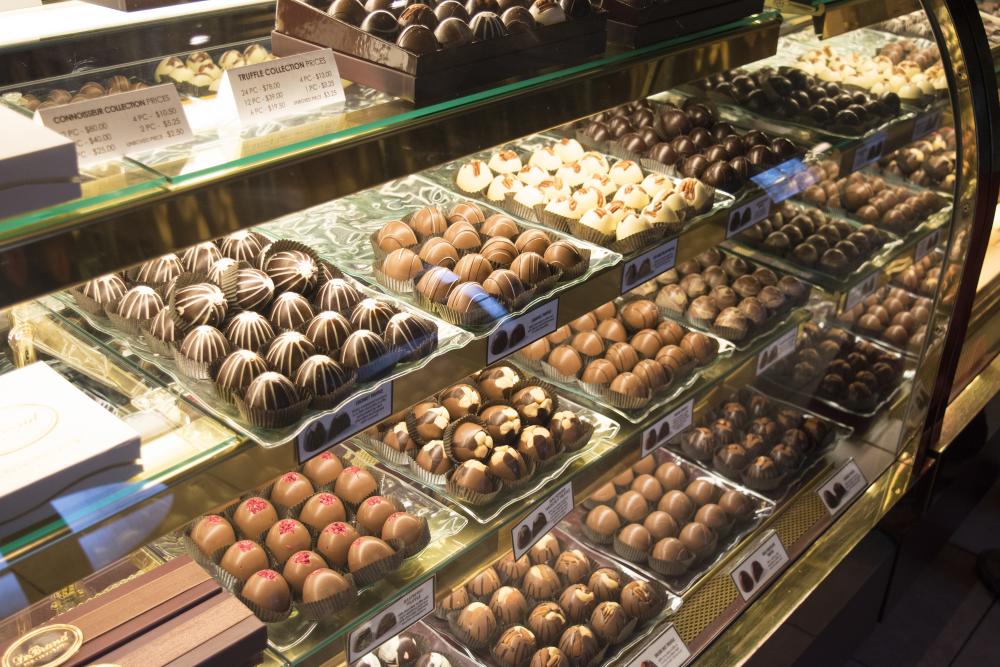 DeBrand Fine Chocolate
When you need an afternoon sweet treat, there's nothing better than a bite of perfection from one of the world's elite chocolatiers! Try DeBrand's classic creams and caramels, a gourmet truffle, or something more exotic. Prefer to sip a sweet, warm beverage? Try their Hot Chocolate on a Spoon; simply stir the solid chocolate portion into hot milk, water, or even coffee. (Yes, it's as soon as it sounds!) Browse and order chocolates.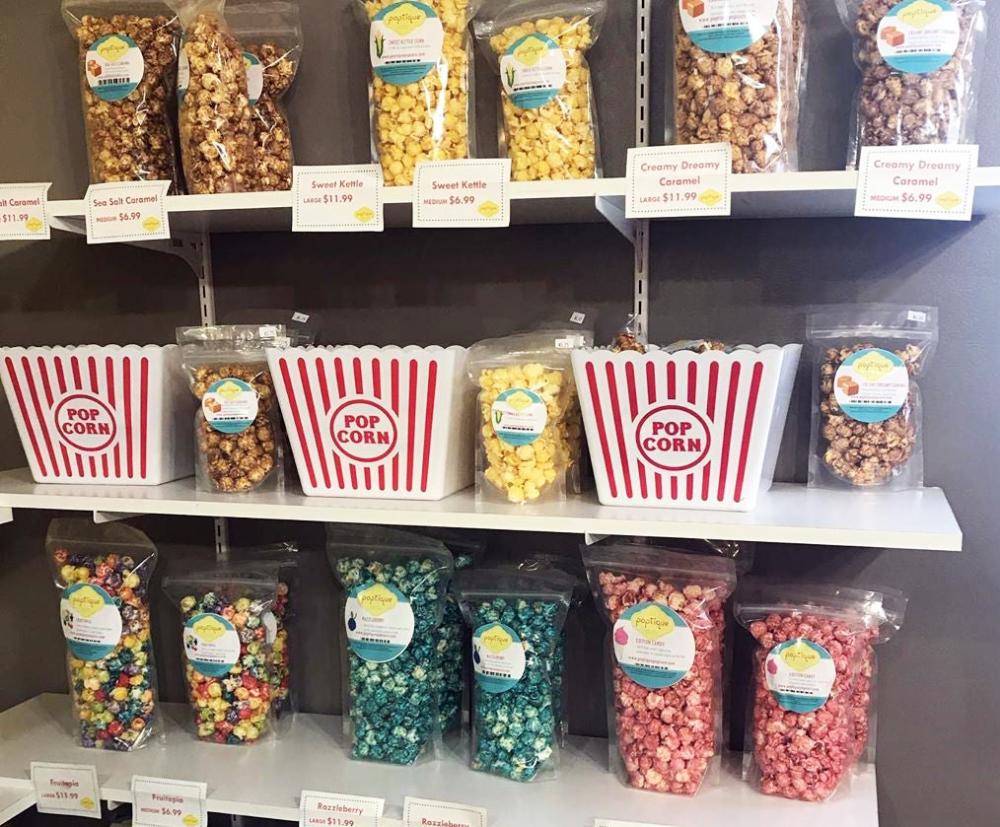 @poptiquepopcorn on Instagram
The most delightful combination of salty and sweet! If you have a secret snack drawer in your desk or office, you'll want to add a few bags of Poptique to the mix. Satisfy your cravings with traditional flavors or live on the wild side with out-of-the-ordinary options and seasonal creations. Choose from snack size, medium, large, or party size bags to share! See the flavors and place your order.
Looking for More?
Fort Wayne has plenty of great shopping options! Browse the full list of Fort Wayne boutiques. You can also find an updated list of curbside pickup, delivery, and shipping options from local shops during the COVID-19 stay-at-home order.