Fort Wayne has a few under-rated night-life establishments worth checking out. Here are a few "dive bars" I recommend:
The Brass Rail:  John Commorato Jr. and Corey Rader have owned this bar/music venue, located at 1121 Broadway, since June 2007.  This 21+ place is a hot spot for music entertainment, especially national acts. There aren't too many places in town where you can catch a quality out-of-town band on a Tuesday night.  The best part: you can catch bands of all musical genres-from metal, to punk, to bluegrass--all under one roof! Be sure to order their signature drink--a PBR! Located at 1121 Broadway
 
Deer Park Pub: A favorite of University of St. Francis students, the Deer Park Pub boasts more than 52 different import beers. Not a beer fan? They also offer fine wines, ports and dinner specials at reasonable prices. I would describe this pub as "cozy." The intimate atmosphere also makes for a unique experience. A la "Cheers," the bar tender comes to know your name. The Deer Park is known for attracting artists from a variety of musical genres, from solo acoustic performances to cabaret style shows hammered out on our 1930's depression era piano. Located at 1530 Leesburg Road
O'Sullivan's Italian Pub: Don't be fooled by the name: O'Sullivan's is not much of an Italian joint as it is a dive bar. (They do serve up a mean pizza, though!) Boasting a full bar, and regular music entertainment, "O's" as the locals call it, is worth checking out. Oh, and be sure to look on their walls for kitschy memorabilia. Located at 1808 W. Main Street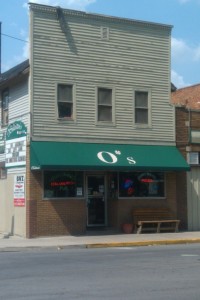 So, there you have it: three ways to see Fort Wayne's nightlife in a different light.
Insider's Note: Be sure to have plenty of cash on hand, as there is often a minimum purchase requirement to use plastic.