The Fort Wayne Derby Girls (FWDG) have been bringing hard-hitting, charity-driven roller derby action to the Summit City since 2005. An all female, flat track roller derby league with over forty members, FWDG hosts its home bouts at the Allen County War Memorial Coliseum from January through May each year. Though the 2012 season is coming to an end, there's one more chance to see the ladies in action.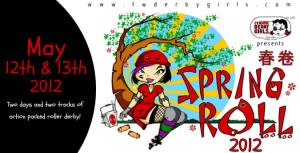 On Saturday and Sunday, May 12 and 13, the FWDG will host the 4
th
Annual Spring Roll, featuring men's and women's roller derby. Though men's roller derby hasn't grown as quickly as women's roller derby in the past decade (there are over 300 women's leagues nationwide), it's on the rise and Fort Wayne has become a central catalyst for it's growth, hosting the first-ever men's flat track roller derby tournament at Spring Roll in 2009. This year, 13 of the top ranking Men's Roller Derby Association (MRDA) teams from around the country, including the MRDA 2011 Champions, New York Shock Exchange (NYSE), will compete. For a full list of teams, visit the
Spring Roll website
. In addition to the men's tournament, Spring Roll will feature Women's Flat Track Derby Association game play on Saturday evening as the FWDG's all-star team, the Bomb Squad, and the S.W.A.T team take on teams from Kalamazoo, MI. This will be the last time to see the FWDG in action at the Coliseum in 2012. Action will begin at 10am both days of the tournament. Tickets are available at the Coliseum Box Office or at
ticketmaster.com
. Full day ticket packages are $18. Tickets for the FWDG bout on Saturday evening are $10.