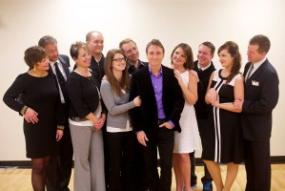 Summer weather may be unpredictable, but the Fort Wayne theatre scene is hot, hot, hot! With dozens of performances from a variety of theatres, there's sure to be something for everyone in the family. Fort Wayne Youtheatre certainly started the summer season strong by hosting the first-ever "Fairy Tale Fest," appealing to children both young and old. So what's next to hit a local mainstage? "No strings, good times, just chums, COMPANY!"
Arena Dinner Theatre will bring this Fort Wayne favorite back to their stage for the first time since 1984. Brought to life by the collaborators Christopher J. Murphy (Director), Leslie Beauchamp (Choreographer), and Ben Wedler (Music Director), COMPANY tells the story of a single man named Robert. On the night of his 35th birthday, "Bobby" reflects on and contemplates his unmarried state through a series of hilarious vignettes. In the end, he realizes being alone is "alone, not alive." The show is an honest, witty, sophisticated look at relationships and is as contemporary and relevant as ever. Jaws will drop and hearts will be warmed by 14 amazingly talented actors, including several award winning performers, including audience favorite, Todd Frymier.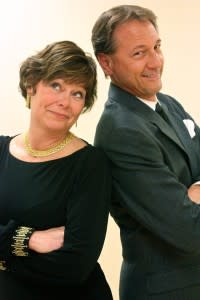 Some may remember Frymier as Jean Valjean, or perhaps Willy Wonka himself; however, he returns to the stage as not only the leading character, but the inspiration behind the upcoming performance of COMPANY. In fact, Murphy did not audition actors for the role of Bobby because he was inspired to do the show- in part- for his friend, Frymier. The cast of COMPANY is dripping not only with talent, but with a familiar, family feel that only local performers can produce. For example, names like Suzan Moriarty, Jim Matusik, Emilie Henry-Murphy, and Megan Meyer have been part of our Fort Wayne theatre family for as long as we can remember. And, as with all families, some people tend to come and go. Pam Good portrayed the role of April in Arena's 1984 production of COMPANY and has returned from an 11-year hiatus to toast "The Ladies Who Lunch" as the memorable Joanne.
Tick-Tock! Time is running out to secure your seat for what's sure to be one of this summer's hottest hits. Performances are: June 13, 14, 20, 21, 27 & 28 @ 8:00 PM, June 12 (Senior Night), and June 19 (Comp. Night). Visit www.arenadinnertheatre.org or call the Box Office at (260) 424-5622 to reserve your ticket today.