The Fort Wayne Children's Zoo has hosted countless visitors, but last fall they hosted a very special one - National Geographic photographer Joel Sartore.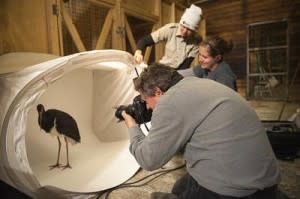 Satore visited the zoo to photograph some of their most unusual species for his Photo Ark project. Sartore's main goal was to photograph honey badgers, which are rare in zoos. While in town, he also snapped the blue-crowned hanging parrots, hunting cissas, black storks, Ruppell's griffon vultures, banded mongoose, wildebeest, and other species. Sartore photographs each species on a black or white background, which provides a stark contrast for the complex beauty of each animal. In the photograph featured, Sartore is photographing one of the black storks in a special white tent made especially for this project. Nearly half of the world's fauna are threatened with extinction on some level.  Sartore hopes his Photo Ark will one day hold images of all species present in North American zoos, documenting them before they disappear.  About 2,400 species have been photographed so far.  We're honored to be part of this educational and inspiring project. Find out more about the
Fort Wayne Children's Zoo
and their upcoming exhibits and events - and join them when the zoo opens for the season on April 20!