So you're coming to Fort Wayne, Indiana, you love to camp, and you want to know where to pitch your tent or park your RV. A lot of things pop up when you google "Fort Wayne" and "Camping," but figuring out which place to make reservations… well, how do you choose? Read on.
Camping in Fort Wayne, Indiana
One of the first hits you'll find is called icampIndiana. This is a website listing six different campgrounds in northeastern Indiana in towns like Wolcotville, Angola and Garrett. According to MapQuest, Wolcotville is around 40 miles away from Fort Wayne; Garrett is about 21 miles away. Most of the locations listed by icampIndiana are north or northwest of town, so a brief drive will be necessary to reach Fort Wayne from your bivouac.
Your best bet for finding a camping place within Allen County/Fort Wayne is the Johnny Appleseed Campground.
Located in the heart of northeast Fort Wayne, the Johnny Appleseed Campground is across the St. Joseph River from the campus of Purdue Fort Wayne. It's quiet, filled with large trees and has a nifty playground for kids.
The campground is generally open from April 15 – October 31, although there are specific weeks when the campground is closed to campers – namely during the Johnny Appleseed Festival. During the Old Fort Cluster Dog Show, the campground is busy with dog show participants, too. Call ahead or check their website to get the details.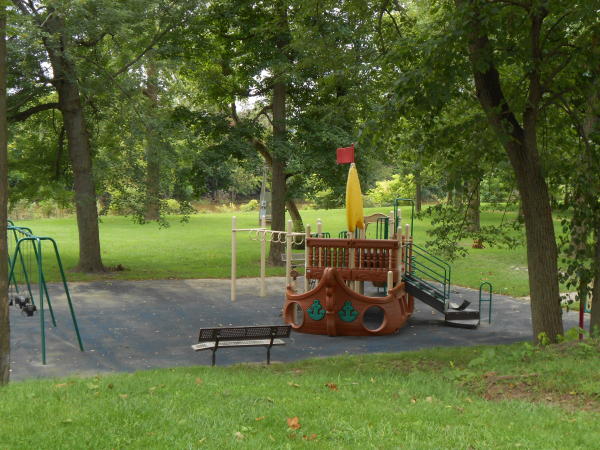 If you have kids along, be sure to check out the playground at the Johnny Appleseed Campground.
Johnny Appleseed Campground Amenities
Amenities at the campground include campground hosts on site; 45 RV/Camper sites with electricity and access to water; showers/laundry facility; free wifi, and close access to Camp Canine, a nearby dog park. Note: proof of dog vaccination must be presented in order for your dog to use the dog park. Your dog's tags must also be visible on its collar when it is in the dog park.
Fees for the Johnny Appleseed Campground (valid for 2018):
RV with electricity: $22 per night
Tent: $16 per night
Weekly fees:
RV with electricity: $132
Tent: $96
Only 2 adults per site; additional adults are $3 each
Dog Park Fee for campground residents: $2 per day or $10 per week per dog
For more information about the Johnny Appleseed Campground, visit their website, or call  260.427.6720 during the camping season, (260.427.6000 when the campground is closed for the year).