(This is the first installment in a four-part series showcasing the many parks found in Fort Wayne and Allen County. Today's focus is on city parks located in the northern portion of the city limits, and maintained and operated by the Fort Wayne Parks & Recreation.)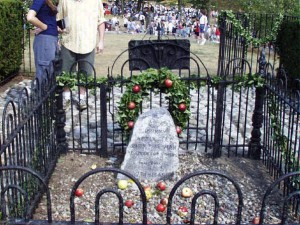 Johnny Appleseed Park
features a unique green space, with a campground on one side, the riverbank on another, and a portion of the Fort Wayne Rivergreenway trail in between. This park is named after the historic man of apple tree folklore, John Chapman, also known as Johnny Appleseed. The park is complete with a natural mound to commemorate his grave site. This park also features basketball courts, boating, sailing and fishing areas, picnic benches a playground and more. The entrance to
Johnny Appleseed Park
is on Harry Baals Drive, just off of Coliseum Boulevard.
Salomon Farm Park
embraces the feel of the farm, complete with a red barn and a windmill. The landmark farm was donated by the late Chris Salomon. A learning center is on-site and a paved walking trail surrounds the park. During the summer children can participate in the Salomon Farm Camp. Visit the park in the fall and winter for hiking and cross-country skiing or bird watch here anytime. Pets on leashes are welcome at this park. The Salomon family still uses the farmhouse, so park in the Learning Center lot.
Salomon Farm Park
is located at 817 W. Dupont Road.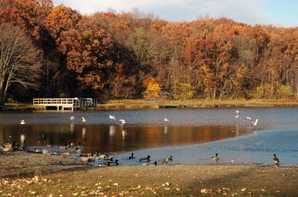 Franke Park,
which contains the Fort Wayne Children's Zoo, comes in at just over 329 acres - making it the largest of the city parks in Fort Wayne. Founded in 1921, Franke Park features a fishing pond, pavilions, playgrounds, a natural open space for activities of all kinds and trails. Franke Park is also home to the Foellinger Theatre, Fort Wayne's own outdoor entertainment theatre. There is also a BMX biking area at Franke Park, and a children's day camp is hosted here annually.
Franke Park
is located at 3411 Sherman Blvd.
Shoaff Park
was founded following a 1955 land donation by Mr. and Mrs. Fred B. Shoaff. This park features a pavilion and the natural beauty of wooded areas. The park offers in total more amenities than any other city green space. Amenities include organized sports areas, boating, Shoaff Golf Course and driving range, disk golf, a playground, splashed and trails. Sports facilities are on-site for baseball, soccer, basketball and tennis. Three paved loop trails are available for walking, running and more.
Shoaff Park
is located at 6401 St. Joe Road.
(Fort Wayne and Allen County are home to approximately 90 parks, encompassing more than 2,800 acres of land. A dozen of these are Legacy Parks, a term coined to signify a park that has been established for 100 years or more. For more information on the parks featured here, and others, visit the Fort Wayne Parks & Recreation online and begin planning your next outdoor excursion.)