(This is the second installment in a
four-part series
showcasing the many parks found in Fort Wayne and Allen County. Today's focus is on city parks located in the central and downtown area of the city, and maintained and operated by the Fort Wayne Parks & Recreation. (
Click here to read more about Fort Wayne parks and outdoor recreation
)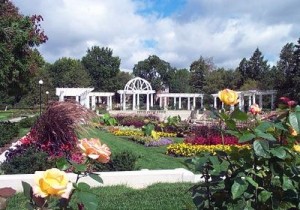 Lakeside Park
is one of a dozen legacy parks in Fort Wayne -- featuring a history dating back more than a century. Founded in 1908 and seated on nearly 24 acres, today this park features a beautiful rose garden. During the spring and summer, witness the many weddings at the gazebo in this park. Besides offering an opportunity to sit by the water and enjoy nature, Lakeside also features basketball and tennis courts, a walking path, public fishing and in the winter -- ice skating. Visit this must see Fort Wayne park during your next visit.
Lakeside Park
is located at 1401 Lake Avenue.
Headwaters Park
is home to Fort Wayne's many festivals, including portions of the annual Three Rivers Festival, but outside those events this green space offers amenities to be enjoyed any time of the year. This 30-acre park features two ample parking areas that allow easy access to the paved walking areas. There are also small plazas, several benches and grassy areas. Headwaters Park also features the Hamilton Sculpture Garden and a fountain. This park is located at 333 S. Clinton St., in downtown.
Headwaters Park
has sections on both the east and west sides of the roadway.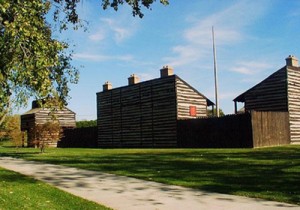 Historic Old Fort Park
is a separate area, but easily accessible from Headwaters Park that features unique landmarks. Here you can find a replica of the original fort structure manned under the command of Major Whistler, circa 1816. The replicated facility serves as a living history museum today. This area provides a great outlet for photos and children will enjoy seeing a view of life in the 1800s.
Old Fort Park
is located on Spy Run, just north of Superior Street in downtown.
Freimann Square,
also located downtown is a small, but unique, space. At just under five acres, this area features a water fountain and paved areas for walking and ledges and benches for sitting. Enjoy reading a book or eating your lunch at Freimann Square. There is also a statue of General Anthony Wayne here, and during the warmer months beautiful foliage surrounding the area.
Freimann Square
is located at 200 E. Main St. (
Fort Wayne
and
Allen County
are home to approximately 90 parks, encompassing more than 2,800 acres of land. A dozen of these are Legacy Parks, a term coined to signify a park that has been established for 100 years or more. For more information on the parks featured here, and others,
visit the Fort Wayne Parks & Recreation online
and begin planning your next outdoor excursion.)