Okay, okay. I'm biased. I love Japanese food, so the task of treating myself to a dinner of sushi and hibachi grilled awesomeness is pretty sweet. But I'm a professional, and I am committed to relaying my experiences at Koto Japanese Steakhouse and Sushi to you, the loyal Visit Fort Wayne reader.
Right after you walk through the door, you'll notice Koto's intimate atmosphere, and it really helps to remove you from the busy exterior of the building which sits just west of the Coldwater/Washington Center intersection. Outside the restaurant, there's always an abundance of traffic, but once you walk into Koto you immediately feel like you've been ushered into a special little world of peace and zen. Oh, and amazing food, but that's still to come. As the worries of the world start to fade away, you'll probably be ready for some appetizers. The Gyoza, which are pan-fried pork dumplings, come first. Think Pot Stickers, then take a bite and quickly forget Pot Stickers were ever a thing. Another favorite of mine is the Shumai, which are steamed shrimp dumplings so there's no fried crust like the Gyoza. No matter, still awesome. I could eat a full meal of just these little lovelies, but there's more. Oh, so much more. After wiping out the appetizers, it's a good time to look around a bit more and you'll likely notice the sushi bar right away. It's a cozy little bar where you can watch the exceptionally skilled sushi chefs prepare your favorite rolls, and you
will
find a favorite. Granted, with dozens of options, it may take you a few tries to get there, but you'll absolutely enjoy the journey. Koto serves everything from the simple and traditional rolls (the California Roll is a solid standby), to the unique and complex. The sushi menu at Koto will challenge you with exotic new morsels that might raise your eyebrow at first, but after you try a piece, you'll probably raise your chopsticks for more. Trust me, I'm a strictly cooked food guy, and while they have plenty of raw options, I can still find great fully-cooked sushi selections too. But wait! There's more! The Koto menu features a variety of hibachi dishes as well. These meals feature your choice of meat (chicken, shrimp, steak) cooked on a hibachi grill along with fresh Japanese vegetables. Add a side of rice, miso soup and a green salad, and these meals will leave you full and happy.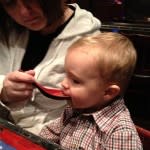 Being a sucker for a great dinner show, I like to go to Koto for the full steakhouse experience and they deliver. In a separate room, several hibachi tables are available where one of their fantastic chefs will cook your meal and throw in some witty banter to keep you entertained while you salivate. In the past, you've had to wait for a special occasion to enjoy a similar experience and Koto allows you to enjoy it more often. Why? Because they're open for lunch! You can reserve a hibachi table for your family gathering and enjoy the same great Japanese steakhouse experience for a very reasonable price. Well played, Koto! I'm thinking at least a few of you are suddenly experiencing a hunger for some great Japanese food, and I can't blame you if you find yourself uncontrollably surfing over to
KotoJapaneseSteakhouseandSushi.com
. I'm having a little trouble finishing this article myself. Once again, you can find Koto near the corner of Coldwater Rd. and Washington Center Rd. and their hours are: Monday - Saturday 11:00am - 2:30pm Monday - Friday 5:00pm - 10:00pm Saturday 3:00pm - 10:30pm Sunday 12:00pm - 9:30pm I can't be more of a Koto fan, and I encourage you to visit them so you can enjoy the experience too. Arigato!