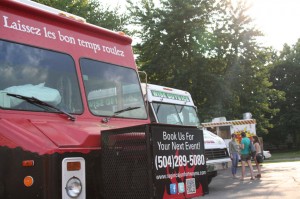 Having recently moved to Fort Wayne I was incredibly excited to explore the Fort's diverse neighborhoods and their accompanying restaurant offerings. Luckily I was offered the perfect outlet for doing both when seven of the Fort's food trucks visited the south central Oakdale neighborhood, slinging pizzas, meats, frites, and ices. A parking lot with seven Food Trucks to sample? Yes please!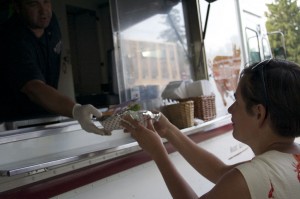 The mobile cuisine craze that has been proliferating across the nation for nearly a decade landed squarely in the Summit City approximately two years ago. The mood here is communal and casual as customers lounge in the grass or share larger folding tables. The energy and camaraderie of those involved seems to be as infectious and inviting as though it were opening day. Neighborhood residents dip in and out of the crowd while others stick around to debate what exactly makes a Po' Boy the "real" thing. Social media is the order of the day if patrons want to keep tabs on where and when their favorite truck is setting up shop and what specials are coming up.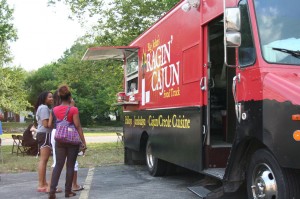 It is exactly this maneuverability, both culinary and geographical, that seems to attract the purveyors and patrons alike. What's more, the amount of foot and bike traffic that accompanies these "Rallies" provides an opportunity to engage in conversation and, even more importantly, pick up a solid recommendation. It certainly helps this particular location is located on a street with one of the Fort's three bike lanes. The crowd here is vocal and amiable, throwing out comments and making suggestions. If you'd like to get acquainted with a particular Fort Wayne neighborhood's residents, this is a great opportunity.
Dan Campbell, one part chef/owner of Affiné, sings the praises of the relationships amongst food truck owners. Affiné also partners with the nearby Gunthrop Farms for pork, duck, and other meats. For Campbell, the benefit of these mobile kitchens is not only their ability to connect neighborhoods and businesses but also the flexibility allowed to his menu, always offering a chance to change things up and think outside the box.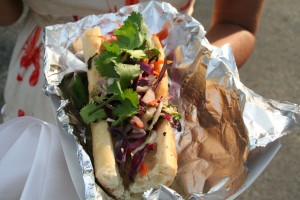 Thankfully this culinary caravan makes tracks all across Fort Wayne, stationing in different areas of town and occasionally outside some of the Fort's favorite watering-holes. Chances are you can find Affiné outside of O'Sullivan's Irish Pub on Thursdays. Bravas also posts up at The Brass Rail from time to time. On Thursday afternoon's you can expect a number of these trucks downtown for One Summit Square where the lunch crowd rubs elbows...but only when taking a bite. Hey-Oh!
Check out the full list of Food Truck Rallies below and like the Fort Wayne Food Truck Association's Facebook Page for more info: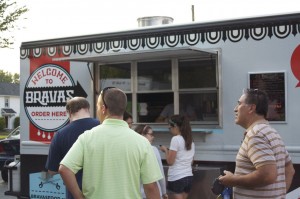 Food Truck Rallies:
Tuesdays, Northside Rally:
North Christian Church
5201 Camden Dr.
Wednesdays, Southside Rally:
Redeemer Lutheran Church
202 W. Rudisill Blvd.
Thursdays, Southwest Rally:
Lucky Harley Davidson
6315 Illinois Rd.
For more info on what you can expect, check out these posts from Holley and Lauren. You might (okay, definitely) want to follow those trucks on Twitter and Facebook to keep tabs on locations, times, and new specials.