Food is one of the few things that we all have in common. Whether food is your job, hobby, passion, or just sustenance, it is something we all can appreciate. It is something important to everyone. So, when
Indiana Humanities
set out to find a topic that could spark conversation about life and culture in Indiana they wisely chose food. The program, Food for Thought, "was a two-year, award-winning Indiana Humanities program presented by Indiana's Family of Farmers. Through this program, Hoosiers examined and celebrated the ways food helps to define Indiana's culture, and considered food in the context of history, law, politics, science, the arts, religion, ethnicity and our place in the world." The success of the program prompted the creation of a legacy book,
Food for Thought an Indiana Harvest
("Food for Thought"). The book, written by David Hoppe and designed and photographed by Kristin Hess, is a beautiful tribute to food in Indiana.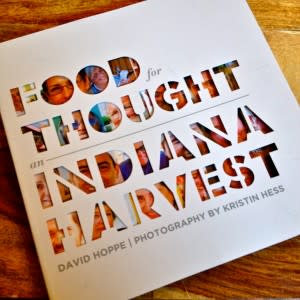 I had the pleasure of attending an intimate book signing with Mr. Hoppe and Ms. Hess. Both Mr. Hoppe and Ms. Hess are passionate advocates for Hoosiers and Indiana food. It was apparent as they talked with excitement and love about their work and its subjects. The authors traveled around the state of Indiana talking to farmers, corporate executives, line cooks, restaurant owners, organic sustainable farmers, and consumers. Eighty interviews and many miles later they produced a book of stories made in Indiana. The stories are organized in groups focusing on Place, Risk, Passion, Artisanal, Starting Over, The Goods, Family, Back to Roots, and Future. These stories create what the authors call a "composite portrait of what's happening in Indiana today." What is going on today with food in Indiana? Mr. Hoppe describes today in Indiana food as the undisputed "most dynamic time" that anyone has ever seen. Food for Thought is not an Indiana food guide, best of book, or an encyclopedia. No, it is a snapshot of this moment in time - a time of revolution, excitement, and passion - a celebration of food and the people who are trying to change the way we think about it. The excitement, passion, and revolution is going on all over the state, but you can find it right here in the greater Fort Wayne area. The following citizens are featured in Food for Thought. Pete and Alice Eshelman -
Joseph Decuis
, Roanoke, Indiana Bernadette Oliver & Ellie Lauren Apollo - Refugee Gardeners, Fort Wayne, Indiana Gusto Rodriguez & Yalili Mesa - Caliente Cuban Cuisine, Fort Wayne, Indiana Dani Tippman - Miami Tribe, Arcola, Indiana You may purchase your own copy of Food for Thought an Indiana Harvest at Caliente Cuban Cuisine in Fort Wayne, Indiana or online
here
where all proceeds will go to support programs and events in Indiana focusing on the humanities.