Update: Visit the Fort Wayne Museum of Art page for the latest events.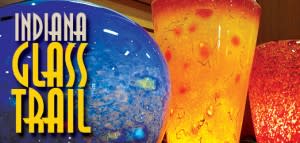 There's something about glass art that stirs the soul. Whether it's watching a master craftsman molding into vessels of white hot art or running your hand along the smooth cool surface, glass art invokes an array of emotions.  As an art form, glass art dates back to Ancient Egypt. Today, we celebrate these beautiful works of art as part of the Indiana Glass Trail.  The trail showcases artists from almost 20 counties around the state with special events happening throughout Indiana.  Some of the most impressive displays are available for your viewing right here in Fort Wayne.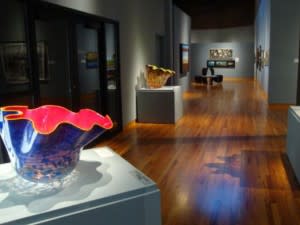 The largest and arguably most impressive living glass artist, Dale Chihuly, is the focus of a summer long exhibit at the Fort Wayne Museum of Art.  Known for his unique use of color and form, Chihuly has become an icon in the glass medium.  With many of his best-known pieces on display, the exhibit has been a popular attraction at the museum. The exhibit marks a return of Chihuly's work to FWMoA and is just one piece of a large glass exhibit at the museum. FWMoA is also hosting the 41st Annual International Glass Invitational Award Winners as part of the 2013 Summer of Glass happening until September 29.  The best 26 artists from around the world are on display during this exhibit. This event is brought to FWMoA in partnership with Habatat Galleries of Michigan.  Tickets to the exhibition are required and cost $7 per person in addition to regular museum admission. 
Museum admission is free on Thursday evenings and Sunday afternoons. FWMoA also offers free admission to military personnel, veterans, and their families Tuesday-Sunday thanks to special support from the 80/20 Foundation.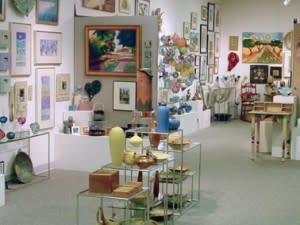 Glass Link on Noble Drive in Fort Wayne specializes in teaching the art of glass.  Learn the art of jewelry making, mosaics, fusing, and stained glass through their extensive educational offerings.  Class prices range from $25-$95.  Check their website for a complete schedule and pricelist.
The Orchard Gallery is known for showcasing local real-life artists whose work you're sure to appreciate.  Guests artists from around the country are also featured.  Visit their Covington Rd. location for gifts, home décor, and art.  Admission is free and prices to purchase pieces from local artists are very reasonable.  Find additional information on their website. For more information on the Indiana Glass Trail and the FWMoA glass exhibits, check out Visit Fort Wayne or the Fort Wayne Museum of Art website.