If you've never been to Follow the Pipes, we'd like to peak your interest in this Three Rivers Festival event by giving you a glimpse at just how complicated a pipe organ really is.
In 2015, the congregation of Trinity Episcopal Church received a gift from the estate of Alice C. Thompson. Trinity Episcopal is the first concert stop during the three days of the concert series July 12-14.
Cornel Zimmer in North Carolina was hired to refurbish the organ, originally installed in 1948, and so the organ was disassembled in January 2015.  Many pieces were sent to the company headquarters and then returned to Fort Wayne to be put back in place for the inaugural concert in May.
The photos show how elaborate a pipe organ is. The number of pipes in Trinity's organ fill two columns on two pages. That's a lot of pipes!
Couple this with the skill it takes to play an instrument of this magnitude…remember you play with both hands AND both feet….and you'll hear music that is incredible.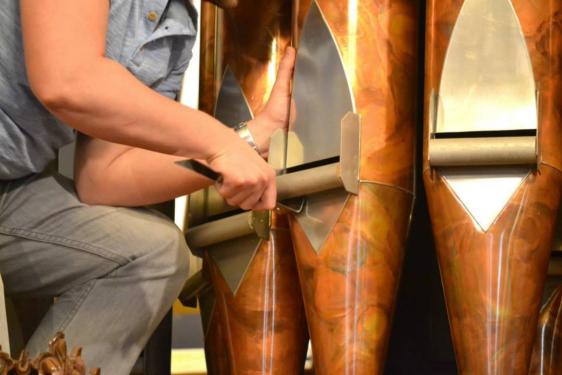 Now you may think that organ music is "heavy" and boring….but you'll be wrong. Everything from the classics to movie music can be a part of an organ concert. At the venues of these concerts, you'll hear a variety of music and see some beautiful old churches as well as the Embassy Theatre.
The featured organists are members of the Fort Wayne Chapter of the American Guild of Organists. Each organist takes his or her own approach to the concerts, talking about composers, explaining how an organ works or giving a little history of the venue where the concert is taking place.
You can attend as many concerts as you want…and best of all, they're FREE! You're responsible for your own transportation, so check out the locations on a local map or program your GPS so you're sure not to miss out.
Elementary school children around the age of 8 or so and older will enjoy these concerts so if you are looking for something different to do with your kids, consider attending with them.
Do something different this summer. Follow the Pipes!
Schedule of Events
Tuesday, July 12
Concert 1 -
Time: 10:00 AM
Venue: Trinity Episcopal Church, 611 West Berry Street, Fort Wayne
Organist: Wayne Peterson
Concert 2 -
Time: 11:00 AM
Venue: Zion Evangelical Lutheran Church, 2313 South Hanna Street, Fort Wayne
Organist: Michael Hollman
Wednesday, July 13
Concert 1 -
Time: 1:00 PM
Venue: Parkview Randallia Chapel, 2200 Randallia Drive, Fort Wayne
Organist: Kathy Miller
Concert 2 -
Time: 2:00 PM
Venue: Salem United Church of Christ, 2401 Lake Avenue, Fort Wayne
Organist: Allen Gobbert
Concert 3 -
Time: 3:00 PM
Venue: Forest Park United Methodist Church, 2100 Kentucky Avenue, Fort Wayne
Organist: Phil Zimmerman
Thursday, July 14
Concert 1 -
Time: 7:00 PM
Venue: Cathedral of the Immaculate Conception, 1122 S. Clinton Street, Fort Wayne
Organist: Michael Dulac
Concert 2 -
Time: 8:00 PM
Venue: Embassy Theater, 125 West Jefferson Boulevard, Fort Wayne
Organist: Cletus Goens