What better embodies the spirit of the 1960's than an original Volkswagen bus? Surround that iconic image with bold, beautiful blooms, and you've got yourself a gateway to the past. Such is the case with the "Flower Power: Summer of Love" exhibit currently running at the Foellinger-Freimann Botanical Conservatory.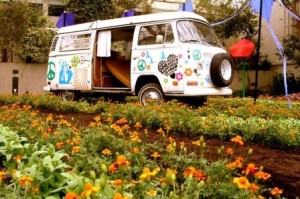 Individuals who wanted to make a difference in the 60's were part of an entire generation who genuinely believed in their power to create a better world for everyone. Their ideas were hopeful, and were symbolized by flowers, which were representative of their peaceful nature. From the brightly-colored beaded curtain to the rainbow of kites overhead, you will instantly get a genuine feel for the era as you step into the Botanical Conservatory's Showcase Garden. An original Volkswagen Microbus sits in the middle of the room, open and waiting for its "flower children" owners to hop back in and drive to the next sit-in or music festival. In addition to the classic VW, the exhibit also features a large display of the highly-recognizable "LOVE" sculpture. Originally commissioned to appear on a 1965 holiday card for the Museum of Modern Art in New York City, the four-letter block has been recycled in various forms through the years. Adding to the experience are explanatory placards dotted throughout the exhibit, providing snippets of information about the 60's, related to the history-changing events that took place during the decade. Step back in time and experience the essence of the 60s with "Flower Power: Summer of Love" running through November 13 at the
Foellinger-Freimann Botanical Conservatory
.