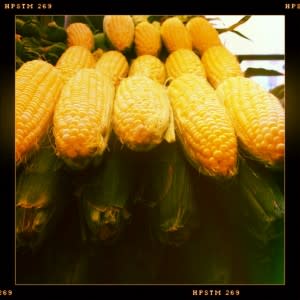 One of the most wonderful things about living in the Midwest is the access to the best kind of food - fresh food. During the summer months Fort Wayne abounds with fresh food, crafts, and plants from the local artisans and farms around Northeast Indiana. If you have never shopped at a farmers market you should give it a try. In case you need convincing, here are five reasons why we all should spend our some of our time at the farmers market.
Fresh Farmers markets offer food that is literally right off the vine, out of the ground, or out of the pen. This increases the impact of the food on our health and our senses. Fresh food is healthier because the food has not lost its nutrients in commercial crating or transit process and fresh food tastes, smells, and looks better. At the farmers market you will get your moneys worth in taste and nutrition.
Get to Know Your Farmer Farmers markets offer the unique opportunity to meet and get to know the person who is raising your food. If you have questions about how the vegetables were grown, what the chickens are fed, or how the beef is treated you can ask the man or woman who knows. There is no need for a customer service number; you have access to the source.
Season The market will tell you want is in season, whether its berries, tomatoes, or squash you will be able to enjoy food at its freshest and most plentiful. This is a great tool to guide your cooking menu - eat what is at its best!
Money Money spent at the farmers market supports local businesses and farmers in the most direct way possible - from your pocket to theirs'. This is one way we can individually help keep family farms operating. Additionally, by shopping at the farmers market you will save money by eliminating the middle man. Everyone wins.
Community The farmers market is a lovely way to spend some time with the people in your community. It is a colorful, accessible and friendly environment to share with your neighbor. The market can be a meeting spot, a place to enjoy coffee with a friend, or a play date for the kids. The farmers market experience has a lot to offer and is a great way to spend a morning or afternoon. Here are a few Fort Wayne farmers markets to enjoy this summer. You can also find out more information about some the great markets by searching Visit Fort Wayne.
This post was originally published in July 2013 and has been updated. Last revised August 2021.