With this early Indiana spring, the little kid with a cane pole, string, and safety pin hook in all of us is trying to emerge to take advantage of the sunny warm weather.  It might be a tad early, but that doesn't stop our yearning for the silver flash of fish at the other end of our line! Of course it's never too early to start thinking of nearby places to wet your line when the delightful weather returns for good. Even if you can't get away to a lake, Allen County has plenty of places to fish, some of which I'll list here.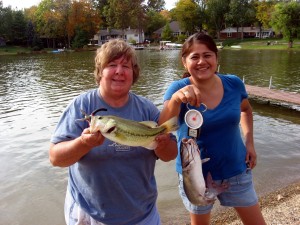 Fox Island County Park and Metea County Park both have nice lakes and only charge $2 to fish.  Cook's Landing County Park has access to Cedar Creek fishing, which is a state-designated river. For more information on these places and the fishing species they offer, check out
www.AllenCountyParks.org.
There is also the inner-city Ivan Lebamoff Reservoir at 2300 Clinton Street in Fort Wayne, which has hungry bass, bluegill and catfish all ready to strike your lures or live bait.  Lakeside Park, Foster Park, Johnny Appleseed Park, Guldlin Park, Swinney Park, Franke Park, and other great local spots can be found at
www.FortWayneParks.org
. All offer access to rivers or ponds with fish and all Indiana fishing rules, regulations and licensing must be followed. Hurshtown Reservoir in Huntertown is another popular fishing spot, as are Cedarville Reservoir, Lake Everett, and Shoaff Lake. In addition, the Fort's famed three rivers – St. Marys, St. Joseph's and the Maumee – have all produced good-sized catches, especially of lunker catfish and are accessible at many sites.