One of my favorite summer memories as a kid was going to my Uncle Larry's lake cottage and fishing with my brother and grandpa. We would sit out in the boat or at the end of the pier for hours casting out our lines and catching some blue gill, sunfish, and bass. I have always found it to be a fun and exciting activity, and relaxing at the same time.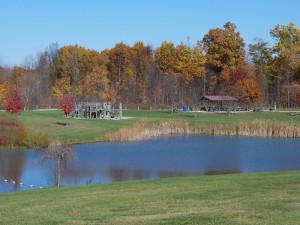 If you feel the same way about fishing, I have some places in or near Allen County to pratice your fisherman skills. Within Allen County you can go fishing at Hurshtown Reservoir, Cedarville Reservoir, Ivan Lebamoff Reservoir Park, Metea park ($2 per person), and Fox Island ($2 per person).
Outside of Allen County there are several places that are near Fort Wayne such as Chain O' Lakes (Noble County), Ouabache State Park (Wells County), Salamonie Lake (Huntington County), Camp Timber Lake (Huntington County $5/ half day, $8/ full day- no fishing license required), and Circle B campground (Steuben County).
There are plenty of other places to fish, but these places are good places to start. All but Camp Timber Lake, require a valid Indiana fishing license. Some have extra charges for fishing and most have some sort of entry fee into the park. Some of the bigger lakes have places on sight where you can purchase an Indiana fishing license. Otherwise you can purchase a fishing license by going to the IN. gov website or following the link here. Anyone over the age of 17 is required to have a fishing license, except if you meet any of the exemptions below:
 You do not need a license if…
Resident Anglers:
• Indiana residents born before April 1, 1943. • Resident age 17 and younger. • Residents who are legally blind. • Residents of a state-owned mental reha­bilitation facility. • Residents of any licensed health care fa­cility in Indiana taking part in a supervised fishing activity sponsored by the facility. • Landowners or lessees of farmland, who farm that land, their spouses and children living with them, while fishing in public waters from the farmland they own or lease. • Indiana residents engaged in full-time military service while on approved military leave; the angler must carry leave orders and a valid Indiana driver's license or voter registration card.
Non-resident Anglers:
• Non-resident age 17 or younger are exempt. • Non-resident military personnel sta­tioned in Indiana must obtain a resident license. • Some non-resident landowners, while fishing in public waters from the farmland they own, according to exemptions their states provide Indiana residents. See fishing.IN.gov or call (317) 232-4200 for details. Have fun and Happy fishing!