I wish I had a couple of little guys or gals running around my house. If I did, I'd take them to visit the Fort Wayne Firefighters Museum.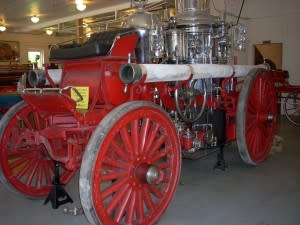 This is such a perfect place for kids. The museum is conveniently located on West Washington Blvd. between Harrison and Webster Streets -- next to the downtown branch of the Allen County Public Library and the Grand Wayne Convention Center. Street parking is free on weekends.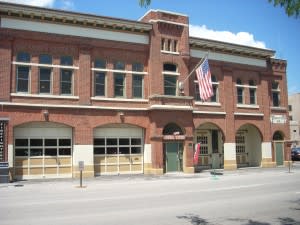 This historic building once housed some of Fort Wayne's bravest workers. Constructed in 1893, the structure known as Engine House 3 serviced the growing downtown. A west wing was added in the 1920s. The building remained operational until 1972 when it closed. During my recent self-guided tour, I saw gleaming, impressive fire trucks used by Fort Wayne firemen (they were all men in those days) from this station in the 1940s. Not everything in the museum was used by the Engine House 3 firefighters but they give us an idea of what was used. A horse-drawn fire truck on loan is similar to the model used in Fort Wayne in 1898. I love anything related to horses, so the replica of a Fire Chief's buggy from the 1800s is also cool to me. The names of the horses that were stabled there are still posted above their stalls. I'm certain they were well taken care of for the big jobs they had of rushing to the scenes of infernos (hopefully they were not all infernos). One item in the firehouse really intrigues me and it is not red or shiny or used for fighting fires. Can you guess what it is?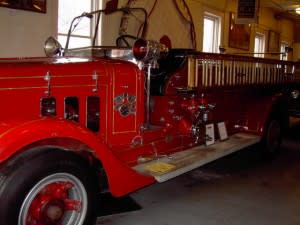 It is an iron lung that was used during the 1940s and 1950s by polio patients to help them breathe. Polio was a disease that ran on a near epidemic scale during this time. Polio affected a person's ability to breathe on his own, due to muscle loss. Why would this bulky medical instrument be stored in a firefighter's museum? Because fire fighters from Engine House 3 volunteered to transport polio patients on their trucks with the 600-lb. machines that needed to be hooked up as patients traveled to medical treatments. The museum's second level contains a movie theater with surprisingly comfortable seating. Films available to show to groups of all ages focus on the history of firefighting. A small meeting room stores a collection of cast iron fire truck toys. About a decade ago the museum housed a café. Today that area probably served as the firemen's sleeping area because it sports a pole used by them to quickly reach the first floor upon hearing the alarm signaling a fire. There is also an interactive area resembling a home kitchen and bedroom that teaches visitors – especially small children -- about fire safety procedures. Souvenirs are available at the front desk, including Fort Wayne Fire Department patches and T-shirts. If you are a child care provider, grandparent, parent or friend of a child, take them to this historic museum. While it's not flashy, I like that it is a place that focuses on its goal—that of informing the public about Fort Wayne's past. Call ahead to reserve a time for group tours. 226 West Washington Blvd. Fort Wayne, IN. 46802 260.426.0051   Hours: Weekdays 10:00 am to 4:00 pm Saturdays 10:00 am to 3:00 pm Closed Wednesdays through July 1, 2012, Sundays and most holidays.   Fees: Adults         $4.00 Seniors       $3.00 Students (K-12) $3.00 5 and Under Free Group rates available for scheduled guided tours   http://www.fortwaynefiremuseum.com/