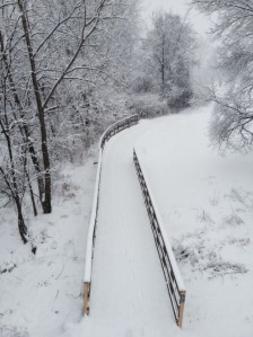 I admit when I think of romance the last thing that comes to mind is winter but why should we let romance slip by just because it's cold outside.  If you're brave enough to step outside in the cold you'll likely find some very unexpected paths to romance.
A snowy walk on the Rivergreenway  Have you ever stepped outside while it's snowing and listened? It's so quiet and peaceful, like the world has been insulated from the hubbub that surrounds us every day.  Fort Wayne Parks Department does an excellent job of caring for the Rivergreenway during this snowy season so take a walk with someone you love and enjoy nature right here in the city.  Be sure to bundle up and wear your boots.  When you reach the north end of the Greenway, stop by the Firefly Coffee House to warm up with a hot cocoa or cup of coffee.
Ice-skating in Headwaters Park Are you skilled on the ice but your sweetie isn't?  Why not teach him or her to ice-skate at Headwaters Park at Clinton and Superior in Downtown Fort Wayne.  Sure you could skate indoors but there's something magical (and romantic) about skating in the park.  Hours are Monday through Thursday 1-8pm, Friday noon-10 pm, Saturday 11am-10pm, and Sunday 12-8 pm.  Skate rental is available for $2 and admission is just $3 for skaters 13 or younger and $5 for skaters 14 or older.   Parking is also free at the park.
Take in a museum For art lovers there are many great places to find art in Fort Wayne.  Whether you're looking for a traditional museum such as the Fort Wayne Museum of Art or you're looking for local more independent artists at Wunderkammer Fort Wayne has something to fit everyone's tastes. FWMoA is featuring beautiful works such as David Hayes: Sentinels; Hard Edge, Cool Logic: Geometric Abstraction in the 20th Century, and Variation Upon A Theme: Song of the Underground Railroad.   While Wundkerkammer is known for cutting edge exhibits like Ask Me if You Can Touch My Hair, Poetry readings, Alternative Sculpture, and Can you Spare Change.
Cheer on the Komets or the Derby Girls What's more romantic than watching a fight break out on the ice? For many couples this is the best way to spend a romantic evening.  With many home games still left in the season, the Allen County War Memorial Coliseum provides a great backdrop for the perfect date.  Enjoy a classic dinner of beer and brats along with cheering on the Komets. Don't miss the start of the Fort Wayne Derby Girls season January 11 also at the Allen County War Memorial Coliseum.  Fort Wayne's only (and Indiana's first) Flat Track Roller Derby League is great fun to watch.  Bringing out that competitive side in the one you love is sure to light a fire that will keep you warm this winter. If you need even more great romantic ideas in Fort Wayne, check out the Dream Night Out on the Town itinerary suggestions on Visit Fort Wayne!