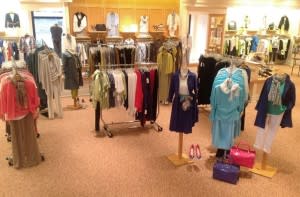 Spring is in full swing, and that means summer is right around the corner. It's easy to stay on top of the latest trends by shopping at local stores.Here are a few places where you can find male and female-centric  options for sweet summer threads:
Belyst: This boutique specializes in designer apparel and accessories for creative and free-spirited women. Check out their selection of vintage and handmade jewelry and works by local artists. They even carry swimwear by local designer OFabz.
Jophiel:  Located in Covington Plaza near Belyst, Jophiel is another destination for women who want higher end clothes. Here you can find some of the hottest trends for spring/summer 2013, including digital prints, abstract prints,  snakeskin, fun dresses, and shoes to complement the styles.  If you need help sorting thru all the trends, the staff at Jophiel are here to help. Personalized wardrobe assistance, a single outfit or a complete makeover. They look at what you own, then collaborate on what you may need.
Christopher James Menswear:  While women are shopping, men should head to Christopher James. They have been a part of the community for over 20 years.  Friendly and knowledgeable, staff take the time to get to know you to deliver the best service possible. They carry a variety of high-end, stylish brands that will take you from work to play and everywhere in-between!
Clothes Mentor: For the budget conscious, Clothes Mentor is a great option to find in style clothes, at a budget-friendly price. You can buy the most sought-after brands "gently-used" in like-new condition for about 70% off of mall store prices. They carry  sizes 0-26, petites and maternity.
Rockin' Ruby's Vintage Threads:  Old is new again, and what better way to show off your personal style than with vintage clothes? Check out the merchandise from 10 am to 5 pm most days, at 835 W. Wayne St., Suite 202 (across from JK O'Donnell's) You're sure to find that one-of-a-kind item! So, there you have it: five ways to get in style for summer 2013. Your friends and family will wonder how you managed. Tell them your secret is a visit to Fort Wayne!