Update: As of 2017, Tanglewood Berry Farm is no longer in operation.
Are you looking for a unique Fort Wayne themed Christmas gift for a hard-to-shop-for person? Look no further than the Visitors Center! We carry a variety of items you can find nowhere else in town. Here are our gifting suggestions: -Perfect for anybody: We carry many postcards depicting Fort Wayne and Indiana scenery, historic sites, and work by local artists Diane Groenert and Dawn Haney.  We also carry key chains, coffee mugs and tumblers, shot glasses for the over 21crowd, and pre-made gift boxes. Also, we have a great selection of local history books, including the new Postcard HistorySeries: Fort Wayne by local Randolph Harter. -For holiday travelers: If you or your gift recipient will be traveling by air we suggest small, light-weight, non-breakable items such as magnets, key chains, post cards, and t-shirts. And, for your luggage we sell durable Visit Fort Wayne luggage tags. -For the Fort Wayne-ian who moved away: If you want to remind someone of home popular gifts include all of thosementioned above, in addition to our beautiful and cozy afghans and large selection of Fort Wayne history books.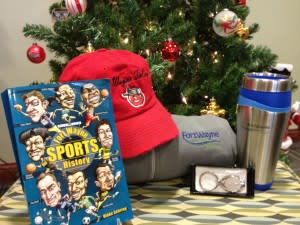 -For a man: Men love the look of our sleek stainless steel tumblers andkey chains. If he is a sports lover we have TinCaps merchandise, baseball t-shirts, baseball caps, and two books on the history of sports inFort Wayne. To keep him warm we have hoodie-style sweatshirts and fleece jackets. We also have playing cards for his poker nights.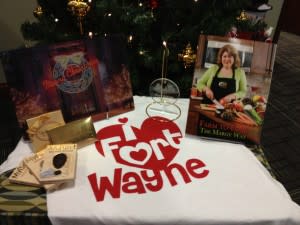 -For a woman: For the chef we have breath-taking cutting boards by Dawn Haney and two cookbooks: Apple Recipes by the Johnny Appleseed Society and Farm to Fork The Margy Way by Margy Hooker-a local chef and owner of Tanglewood Berry Farm. We also have a beautiful glass ornament by local artist Mike Skiver and a huge selection of t-shirts and sweatshirts. For the chocolate lover we have delicious DeBrand's chocolate, and we also carry a variety of Vera Bradley items in all the latest patterns.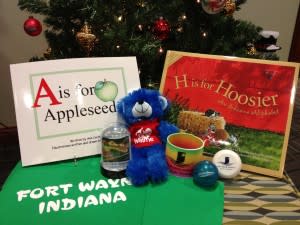 -For a child: Children are delighted at the fun Fort Wayne toys we carry, including: slinkies, yo-yos, teddy bears, snow globes, puzzles, and light-up bouncy balls, in addition to our colorful shirts. For the little artist we have Old Fort Coloring Books. And, for the little reader we have A is for Appleseed by Ann Corfman and H is for Hoosier by Cynthia Furlong Reynolds. The Visit Fort Wayne Visitors Center has all of the above - and much more! Shop local and find fun, unique gifts that celebrate our great city! The Visitors Center is located at 927 S. Harrison Street. If you have a question about what you can find in our store, give us a call at 800.767.7752. We are open during Holly Trolley THIS SATURDAY, November 30th from 11-4. On that day only we will be offering a special 10% deal on all of our afghans.