Pink rabbit ears, blue and green eggs, cellophane-wrapped baskets and loads of green turf stuff - yep, Easter is coming. And in Fort Wayne, there are plenty of places to bring your little hoppers to have a visit with the official Long Ears himself - the Easter Bunny. Here are the best places to see him!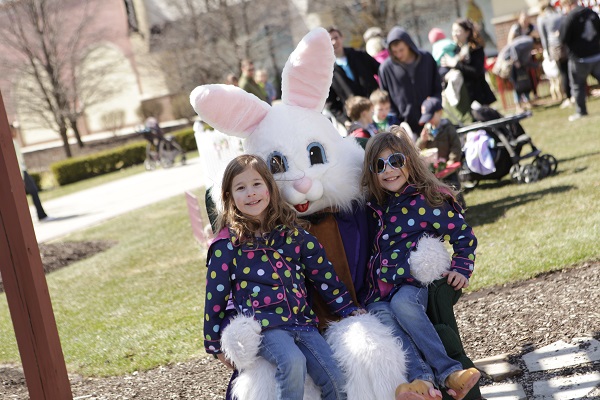 The Easter Bunny will be located in the Macy's courtyard, starting on March 11 and ending on March 26. This has been a long tradition at Glenbrook, and it is the perfect time to bring the kids for a great spring photo. The display varies every year, but you can count on plenty of smiles in the days leading up to the Easter holiday. This event is free.
On March 26, from noon - 4 p.m., get ready to experience a lot of spring-themed fun. Head for the Center Courtyard Fountain at this outdoor mall, and you'll find face painting, balloon art, a petting zoo, and, of course, time to take a picture with the Easter Bunny. Katrina Newman, the Property Marketing Manager for Jefferson Pointe, noted that parents and friends should bring their own cameras to capture the moments kids have at the petting zoo and for when they meet the Easter Bunny. This event is free.
Friday, March 25, the Botanical Conservatory will be open from 10 a.m. - 3 p.m.
Live young animals - think downy chicks and soft ducklings - will be on hand for young visitors. Yes, there will be rabbits, goats and sheep, too. An adult must accompany any children who attend the Easter in the Garden event.
Activities include visiting the Easter Bunny, potting a plant, making crafts, entering a drawing for a sweet Easter basket, and participating in an Easter Egg hunt. Be prepared; this hunt is on the gentler side, for toddler through elementary school-aged children, and each little visitor is given one chance to collect six eggs.
The Botanical Conservatory is always a wonderful haven for plants, so don't miss your opportunity to explore all the flora, too!
Regular Admission is charged: Adults $5 Children age 3-17 $3 Ages 2 and under Free. There is no extra charge for the Easter Egg Hunt.