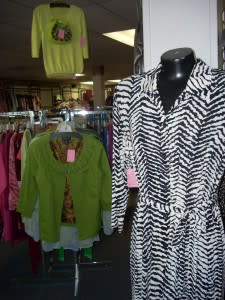 OK, New Year's Eve parties might be over, but you still need attractive, fashionable clothes in your closet for parties and other special events. The trick for me is usually (OK, always!) to find something within my price range. It was thrilling to find a store that fit my needs on Fort Wayne's south side.
Something Old, Something New at 2519 Lower Huntington Road is a consignment shop of ladies apparel that is a cut above consignment shops I've visited in the past. My adult daughter and I shopped here recently for the first time and were amazed at the wide assortment of clothes that, while worn before -- hence the moniker 'consignment'-- hardly looked it. The suggested items of complementary jewelry, hats and shoes was striking. My adult daughter is my real-life fashion diva, but it helps to have assembled outfits that take little thought.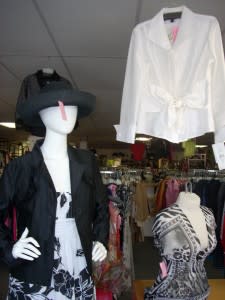 The selection of black and white items pulled for a certain display really appealed to me as black is a color I wear often for contrast. Searching through the sale racks, I was rewarded with a tailored white blouse which I consider useful for all seasons. I also purchased a teal shell which I could wear under the white blouse or other items in my closet, making it a fun summer addition to my wardrobe. The store does not charge more for plus-sized clothing which is a nice advantage. Cost for both items: $15.00. My daughter purchased a flirty blue blouse and some jewelry. Her total expenditure was also under $20.00.
We plan to re-visit this shop soon to see what wintry items might still be on the racks and check out their spring items. While in Waynedale, I usually stop for lunch in a local restaurant like the Waynedale Bakery (2610 Lower Huntington Road, www.waynedalebakery.com) or Azar's Big Boy Restaurant at the corner of Bluffton Road and Lower Huntington. I can never be in the area and not stop in the Waynedale branch of Allen County Public Library located just down the street. They have plenty of DVDs and books to check out for winter weather. Actually, forget what I said at the beginning. No female needs a reason to shop for something new to wear at a tiny cost! Visit Something Old, Something New and see if you can't find a great item of apparel for your closet at a reasonable cost. Something Old, Something New 2519 Lower Huntington Road 260.478.6174 Hours: Mon-Friday 10:30 am-5:00 pm Saturday 10 am – 1pm.
For more great shopping options for your visit to Fort Wayne, both smaller shops and our great malls, check out our shopping page.