I've been a Hall's patron all my life – my
earlier post on Don Hall's Prime Rib
(Hall's for short, at least in my family) is the proof. Oddly, though, I had never eaten at the Old Gas House until a couple weeks ago. And I didn't know what I was missing. Hall's restaurants are unique in that there is a restaurant to suit whatever mood you're in or please whomever you're with. Are you looking for a place to eat a quick bite on your lunch break? Do you have business clients to impress? In town for a convention or a vacation? A first date? A hundredth date? It doesn't matter – Hall's is the place.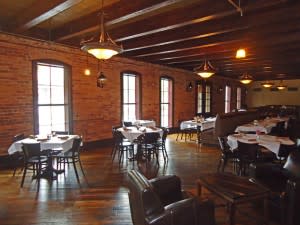 At my wife's suggestion, we ate at the Old Gas House a couple weeks ago after seeing a movie on a Friday night. And while I had never eaten at this particular Hall's, I had no doubts about the quality of the food, service, or atmosphere. The dark woods and warm lighting – plus the pieces of Fort Wayne history on the walls – create an immediately inviting atmosphere. We sat in the bar, a bar that is clearly home to several regulars. I like to see that at a restaurant – it's a place you know people want to return to time and again. I ordered the Chicago Burger (a standard at almost all Hall's restaurants) – a 10 ounce hamburger grilled to order with a choice of several toppings (I usually go with a variety of cheeses). With it came Hall fries, homemade potato chips that are fantastic. I should also mention the bread, which is topped with sea salt and pepper. I could eat a loaf or two of that as a meal, but loaves of bread don't really make for balanced dinners. We enjoyed ourselves so much we've eaten at the Old Gas House twice since then. Now I can also attest to the tastiness of the Sesame Seared Yellowfin Tuna (it's an appetizer that would make a great entrée) and the Chicken Pesto sandwich, both of which were delicious. As I was writing this, I realized something. On the first New Year's Eve my wife and I spent together, we had dinner at a Hall's restaurant – the Tavern at Coventry, on the southwest side of town. Shy of ten years later by just a day, we spent the night before New Year's Eve with friends at the Old Gas House. While we didn't plan it this way, Hall's bookended our first ten years together. It's a part of our family, it's a part of Fort Wayne, and it's an experience in which you can share. Visit Don Hall's Old Gas House, 305 East Superior Street, here in Fort Wayne, Indiana. Call them at (260) 426-3411 or check out
http://www.donhalls.com
. One last thing – it's too cold now, but the Gas House Deck on the banks of the Saint Mary's River makes for great outdoor dining in the summer.