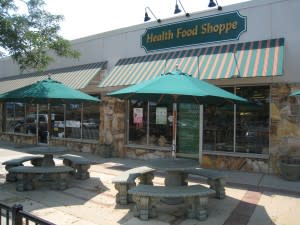 One thing that I love about going to the Health Food Shoppe is the variety: makeup, vitamins, baking mixes, and a variety of ready-to-eat foods. When I was little, getting a sack of spicy rice chips was always a treat. Now, I like to explore the sugar-free gum and mints.
As you walk into the store, you'll see that the shop is set up like a small grocery. The shopping carts are tiny – suitable for holding your purse (or a small child), but not large enough for a kid to stand on the end of the cart.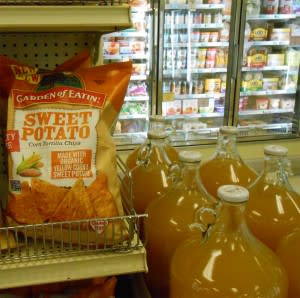 Makeup and personal care supplies are in the aisle behind the cash register. If you like to have makeup that is more mineral-based than chemical-laced, this place sells a variety of foundations, blushes, lipsticks, and nail polish.
The Shoppe also carries toothpaste, mouthwash, tooth powder and specialty soaps. Ready-to-eat foods include couscous salad with feta and spinach, sandwiches, and fruit juices. During the lunch hour, the Natural Way Deli serves soups and salads – and the smell of that good food permeates the whole store.
A cooler in the back also holds milk and cheeses. And, if you are shopping with gluten sensitivities in mind, check out the gluten free cake mixes, bread, and cookies. Go to the Shoppe's Facebook page to check out the deli menu of the week (look under "Health Food Shoppe of Fort Wayne.")
If you're looking for vitamins, the Shoppe has a number of them: Solgar, Nature's Sunshine, Country Life, Nature Plus and Herbs for Kids are just a sampling of the brands available.
There are usually a couple of sample jars on hand, too, so you (or your kids) can test the flavor of multi vitamins, vitamin C tablets, or other chewable supplements. If you can't find the sample jar, just ask one of the clerks for help. The Health Food Shoppe is a neat place to stop for a quick bite or a refill on your alternative health care products. It a small, locally-run place with great service and good food.
The Health Food Shoppe 3515 North Anthony Blvd. Fort Wayne, IN 46805 260-483-5211