Painted hay bales, pumpkins, and at least a little bit of the outdoors are the perfect way to spend a nice fall weekend.  Fort Wayne has some fun family-friendly not-scary events that should have you enjoying autumn's nicest offerings!
Fall Fun in Fort Wayne
Pumpkin Zone and Punkin' Path 
Botanical Conservatory
10 a.m. – 3 p.m.
Right in the heart of downtown Fort Wayne, you'll find the Pumpkin Zone. It is housed in the buildings and on the outdoor grounds of the Fort Wayne's Botanical Conservatory.
According to Rebecca Canales, who is the coordinator for the Conservatory's event, they don't have an exact count of the number of pumpkins on display. "We purchase them by the shipping box and by the pound and have never counted them!" she exclaimed. It's safe to say, though, that there are hundreds of pumpkins out there. "We're the perfect spot for an easy, happy family outing," she added.
Mix those pumpkins with mums and a gathering of garden gnomes, and you have a fun place to take some photos.
For kids, there are special activities like face painting, scavenger hunts, mini-pumpkin decorating, and necklace making. Volunteers from farms and the Allen County Farm Bureau will also provide opportunities to experiment with floating veggies, trivia, and other fun stuff. The target audience age is 3-8 years old.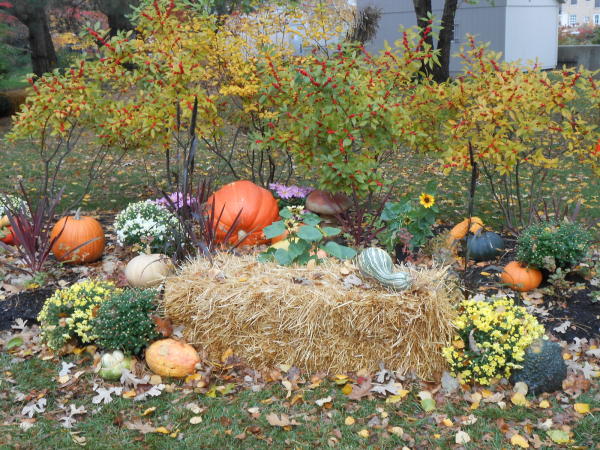 Fun fact: this is the first year that the Conservatory has grown its own pumpkins! Grown from last year's seed, a volunteer vine sprouted and grew at least eight different pumpkins, all of which are part of this year's display.
The Botanical Conservatory's Punkin' Path will be open from October 10 – 29, with special Pumpkin Zone activities on Saturday, October 21. If you're in the mood to buy a pumpkin, stop by on October 31, the day after the display has been dismantled. Lots of pumpkins will be on sale at low prices in the Sales Garden. 
Moose Lake Fall Festival and Pumpkin Carving Day
Moose Lake Christian Craft Village
10 a.m. – 4 p.m.
Located in nearby LaOtto, Indiana, the Moose Lake Fall Festival and Pumpkin Carving Day will have over 1,000 pumpkins here! This is the third year that the village at Moose Lake will be holding the Festival.
"Fall is a special time for families to be outdoors and enjoy the fall colors and the beauty that the country has to offer," explained Doug Jennings, who created the Moose Lake Christian Crafts Village.
Activities to watch will include chainsaw carving, live music, a Soarin' Hawks Birds of Prey demonstration, and a display with the champion giant pumpkin and gourd. Also on display will be more than 36 large, round hay bales, painted by local artists.
Jennings was extra excited that local master pumpkin craftsman Mark Leatherman will be at the Festival. Leatherman "designs the pumpkins with such skill and variety that makes these one of a kind pieces a collectible and highly sought after," he noted.
There will be a Moose Trax Express Train, a hayride wagon, and horse rides. Shopping and food are also available on site.
For more fall fun in Fort Wayne, make your weekend extra special with some of Fort Wayne's other fall activities. Learn more at VisitFortWayne.com/Fall