Where else in Fort Wayne will you find over fifty Christmas trees decorated in holiday charm? Come to the Festival of Trees, held in the historic Embassy Theatre, in downtown Fort Wayne. The Festival will be open from November 23 -30.
Every year sponsors (usually businesses from around Fort Wayne) support a variety of holiday trees that will be on display. Sometimes workers from the businesses decorate the trees. And sometimes, the businesses hire professional decorators to trim the trees.
The end result is a beautiful walk-through tour that is bound to send you into the holiday spirit immediately. Lights, tinsel, ribbon, ornaments of all kinds – you will really enjoy seeing all the creativity that goes into each masterpiece.
According to, Special Events Director, Kyle Snare, who is overseeing the Festival of Trees this year, there were over 20,000 visitors who came to the Festival in 2015. "That's a record," he said, and it's one organizers want to beat this year.
Special events, like Breakfast with Santa, the Fort Wayne Children's Choir Community Sing-Along, and other local groups will also be giving performances during the Festival of Trees.
Snare suggested that visitors should allow at least an hour to an hour and a half to stroll through and see everything. During peak visiting hours (Friday, Saturday, and Sunday from 11 a.m. – 4 p.m.), visitors will probably want to take even more time, as those are the most popular hours.
Snare explained that at the end of the Festival, the take-down process is pretty fast, as there is another entertainment group coming in the very next day. "Hoover the Mover comes in," he said and within two hours, the trees have been wrapped and are ready to go.
Yes, that's right – Christmas trees on display at the Festival are wrapped in plastic, complete with their ornaments still on, and are carried to the sponsor's designated location. If a business wants to bring the tree back home to display in its lobby, that is done. If the business has donated the tree to another organization, the tree is taken there and can be enjoyed for the rest of the season.
The Festival of Trees is a wonderful display of artistic creativity and Christmas cheer. Why not visit one of Downtown Fort Wayne's loveliest displays of holiday hope this year?
Festival of Trees Hours
Wednesday, November 23 (6-9 p.m): Downtown Fort Wayne's Night of Lights
Thursday, November 24 (4-8 p.m.): Thanksgiving Day
Friday, November ​25 (12-8 p.m.)
Saturday, November ​26 (12-8 p.m.)
Sunday, November ​27 (12-8 p.m.)
Monday, November ​ 28 (9 a.m.-1 p.m. & 5-9 p.m.)
Tuesday, November ​29 (9 a.m.-1 p.m.)
Wednesday, November ​30 (9 a.m.-1 p.m.)
Tickets are $8 per adult, $4 for children ages 4-12. Children 3 and under are free, but they do need a ticket. There is a separate charge for special events, like Breakfast with Santa.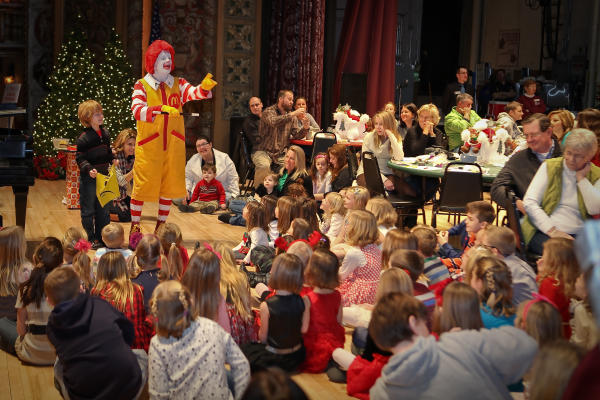 Tickets can be purchased at the STAR Bank box office at the Embassy Theatre, by phone: 800.745.3000,  in person at 125 W. Jefferson Blvd., or online at ticketmaster.com.